The elation of receiving a wedding invitation in the mail is so exciting, but even more so if those you invite are able to make a trip out of your wedding bliss! As weddings are becoming increasingly more of a destination extravaganza, the history of the wedding union and its multi-day popularity is trending once more. Traditionally, and in other world cultures, a marriage of two includes the union of both families celebrating sometimes for a week with events and special attractions for all involved. In ancient times, after the ceremony, the new couple and joined families would celebrate for a week before embarking on their honeymoon. Though most of us (and our families) are not able to plan, indulge, and take off from day-to-day responsibilities for an entire week just for the post party, there are ways to extend the wedding day celebration and many couples are taking advantage of these opportunities more than ever before. For those considering a "local" (within 3 hours) destination wedding, here are 5 reasons this might just be the choice for you.
#1 More Time with Friends and Family
One of Memories and Promises recent couples chose a wedding destination location not too far from where they reside. Although only about an hour-and-a-half away, the location venue in Temecula, California, was just a bit of a distance for most of the friends and family involved and planning on attending the wedding. Taking advantage of the year in advance booking, Chanel and Dane shared with their family months in advance where they would be staying during the duration of their wedding weekend. Much to their surprise, almost 75% of their guests chose to stay the weekend at the first wedding celebration location, Pechanga Resort Casino, located in Temecula, California. There were two key positives the happy couple achieved because of this: One, they each were able to spend quality time with those individuals important to them, outside of the quick-paced wedding day and did not feel the pressure of having to attend to each guest for lengthy periods of time during the wedding day. In addition, the percentage of attendees arriving on time at the wedding ceremony improved tremendously. Their guests were more relaxed and, in turn, they were, too. The ceremony began on time with all their loved-ones to enjoy the moment.
#2 There's Room for Everybody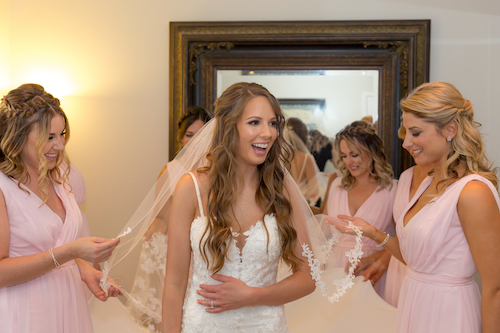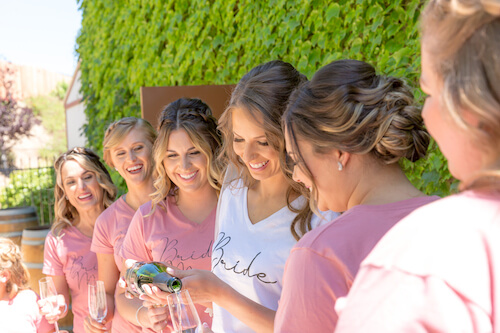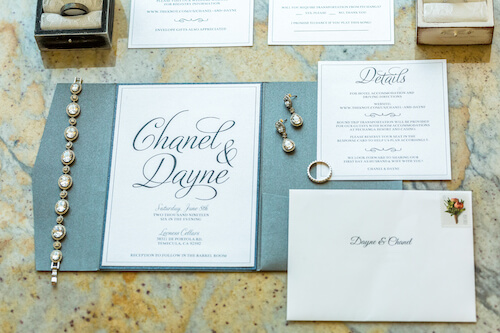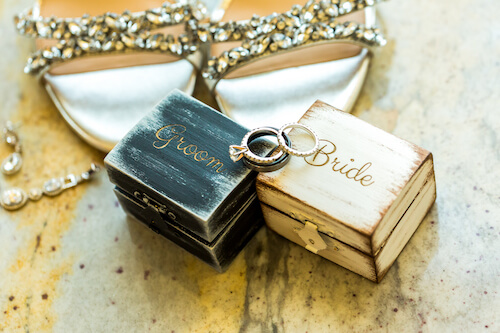 A great thing about having a getting ready location and a separate ceremony/reception location is twofold. First, you usually have enough room for all your girls (and guys) to get ready, finalize those details in their own hotel room, and have all of their supplies with them. You have no idea how many things are forgotten in transition (so make a checklist!). The chances of losing or forgetting items decreases, and everyone has enough time to enjoy themselves and not be on such a time crunch. This also provides a chance to welcome family members and out-of-town friends who fly in for the wedding celebration the night before. You have a chance to speak with them before the wedding day, something crucial to consider when the pace of a wedding day can go by so quickly. You may miss some invaluable moments with each person attending the wedding. It also allows for the groomsmen to do some fun activities while the Bride Tribe is getting ready. In this local destination wedding, our guys decided to have a stroll through Pechanga casino dressed to the nines. This is an opportunity we are sure most groomsmen don't get a chance to do! Dane and his groomsmen enjoyed much needed guy time, having fun, and all-around makings for a memorable start of a great wedding day.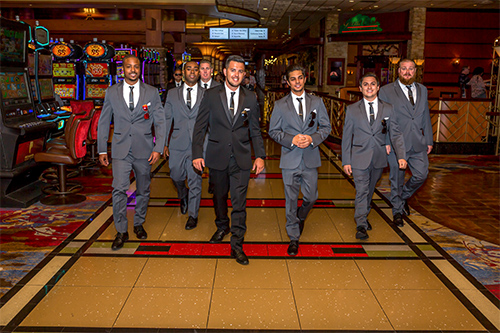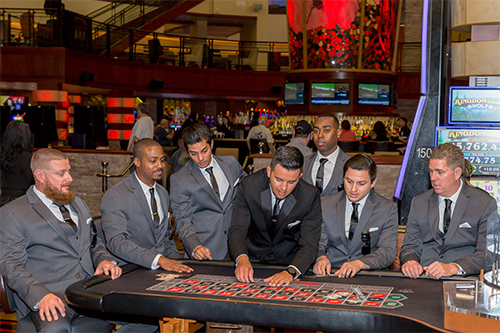 #3 Everyone Gets to the Wedding On Time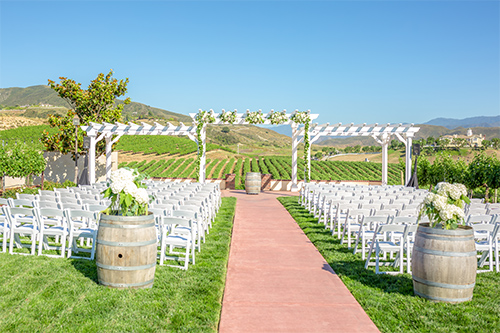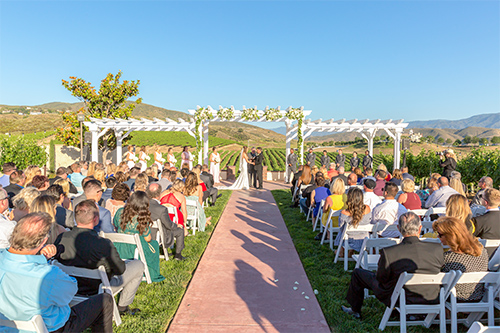 In addition, planning for a few days at a hotel or AirBnB allows for easier transportation. In this case, our couple used a shuttle service for the easy drive from the Pechanga Casino Resort Casino to their destination location at Leoness Cellars with fun and ease. As is the case for many wedding venues in Southern California, the lack of parking can always be an issue. But alas, our couple made easy plans for transportation to and from the Pechanga Resort Casino which made cruising into their wedding day easy for everyone and for those that choose to start the celebration early.
#4 Great Wedding Destination Locations Book Early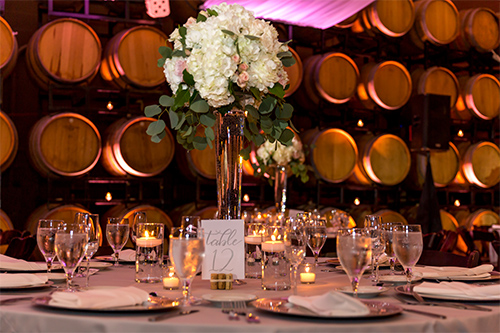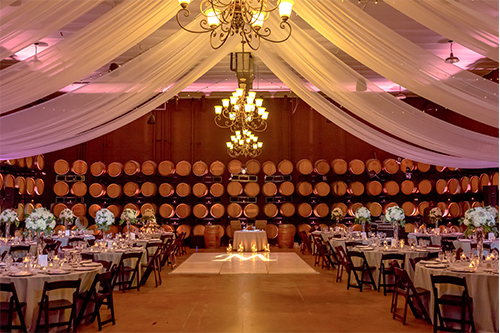 The wedding day flows nicely at Leoness Cellars, an amazing vineyard destination location known for their wine, views, and is ranked #5 in "83 Best Things to Do in Temecula" according to Trip Advisor. With over x amount of renovations completed in x time 2018, this spring wedding had the perfect Southern California weather with vines sprouting far overhead. The private ceremony site overlooks the vast array of green vineyards and valleys. Along with the barrel room, which held the reception that can seat over x amount of people, the stage was set with wonderful up lighting and decor to make for a magical night few will soon forget.
#5 The Celebration Continues

As the reception night winds down, it was an increased opportunity for those staying in town to continue their weekend of festivities, celebrating with the newly married couple, enjoying the amenities and relaxed feel that comes with staying a few nights for the Temecula destination wedding. With over 40 unique wineries to visit, top rated shopping locations, and over 50 restaurants near Old Town alone, there are plenty of options in Temecula, California, for everyone. Each person will have their own fond memories of this sensational destination wedding event, with photos to follow by Memories and Promises Photography, all those precious moments are preserved for those in attendance. Each person gets to truly experience a wedding destination, coming away refreshed and happy for those loved ones becoming united as one.
---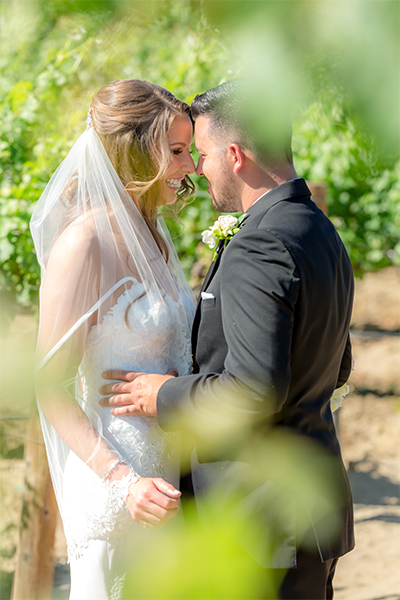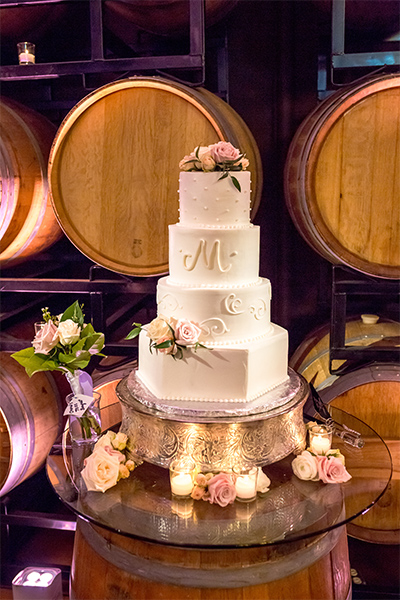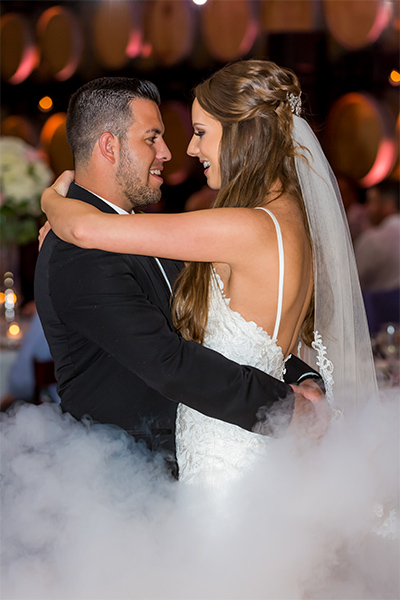 ---
Leoness Destination Wedding Vendors