When you think of a traditional ranch wedding venue, one might think of boot-scootin', hay bales, and line dancing. And although all of those traditions may still hold true for many wedding couples, the claim of a ranch wedding has become exceedingly popular leaning more towards elegance and romance. With design inspiration coming from the stunning, lush landscape from the hills of San Diego County, elegance abounds at the Circle Oak Ranch Weddings Estate settled in De Luz, CA. Set against a gorgeous Southern California blue sky, the dusty blue, creams, and hints of silver and gold are a perfect palate for the charm that graces the backdrop of Circle Oak Ranch. From a 150-year-old oak tree standing beautifully manicured as the center piece for the ceremony site, to the stunning walking path that leads to the enchanted and canopied reception area, it all provides breath-taking views of the property. Just a few steps away, heading up to the top of the ranch, you reach another perspective that offers 360-degree panoramic views.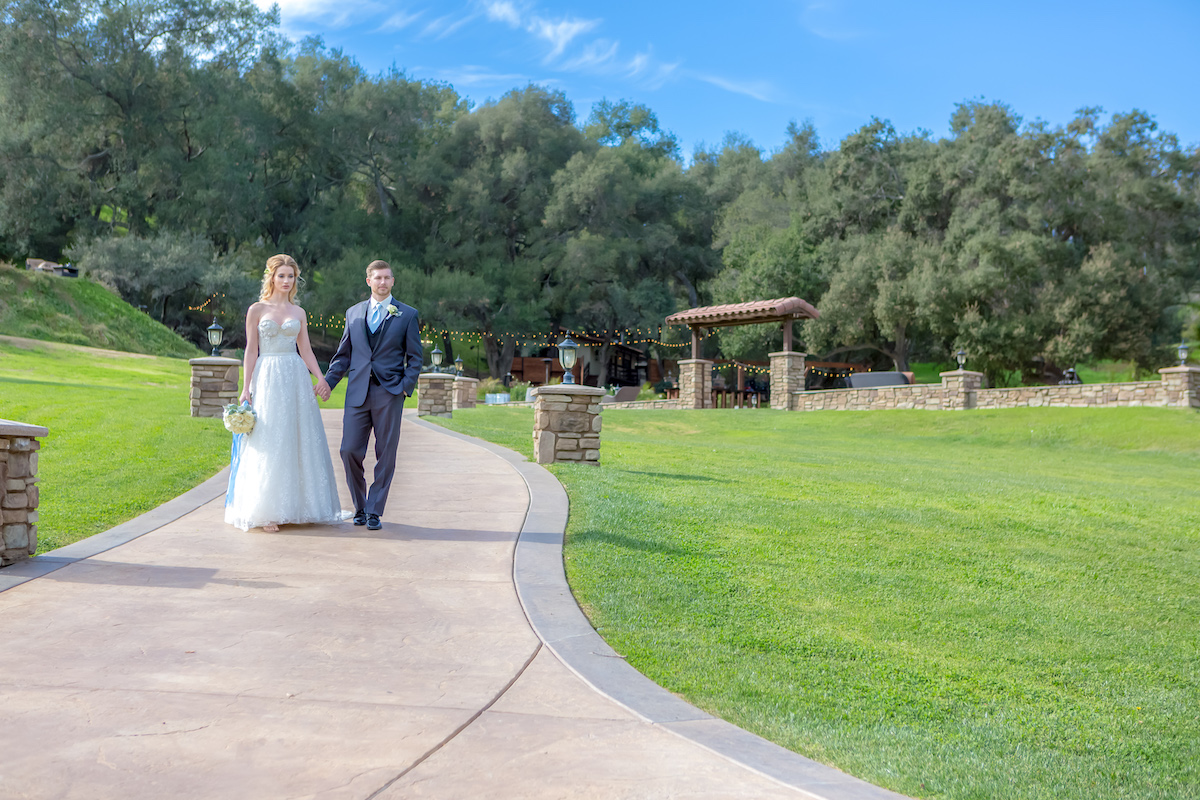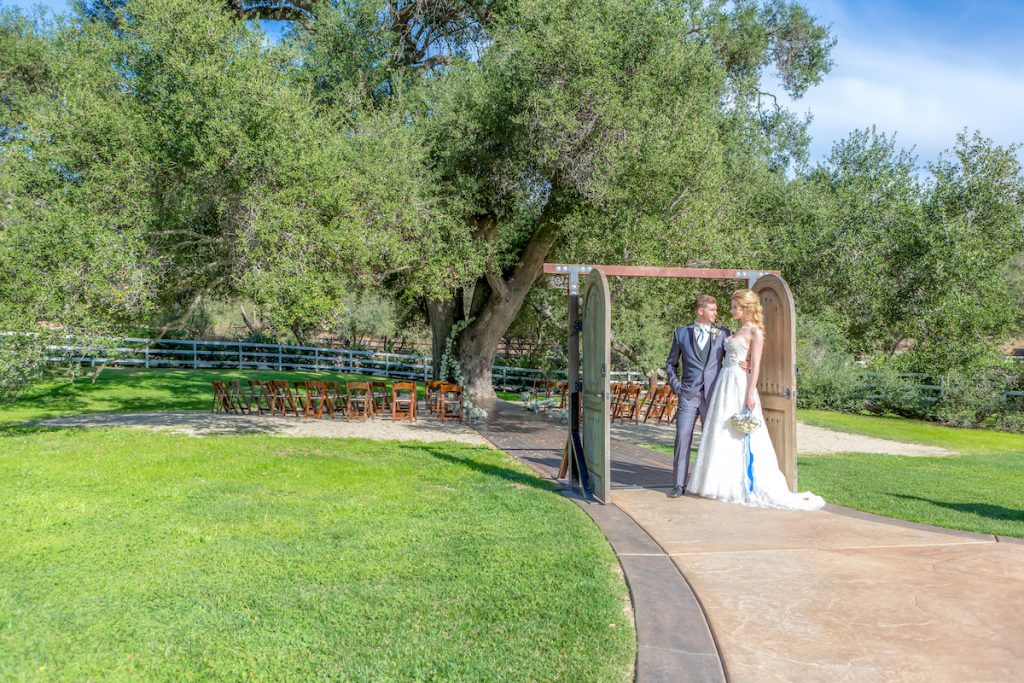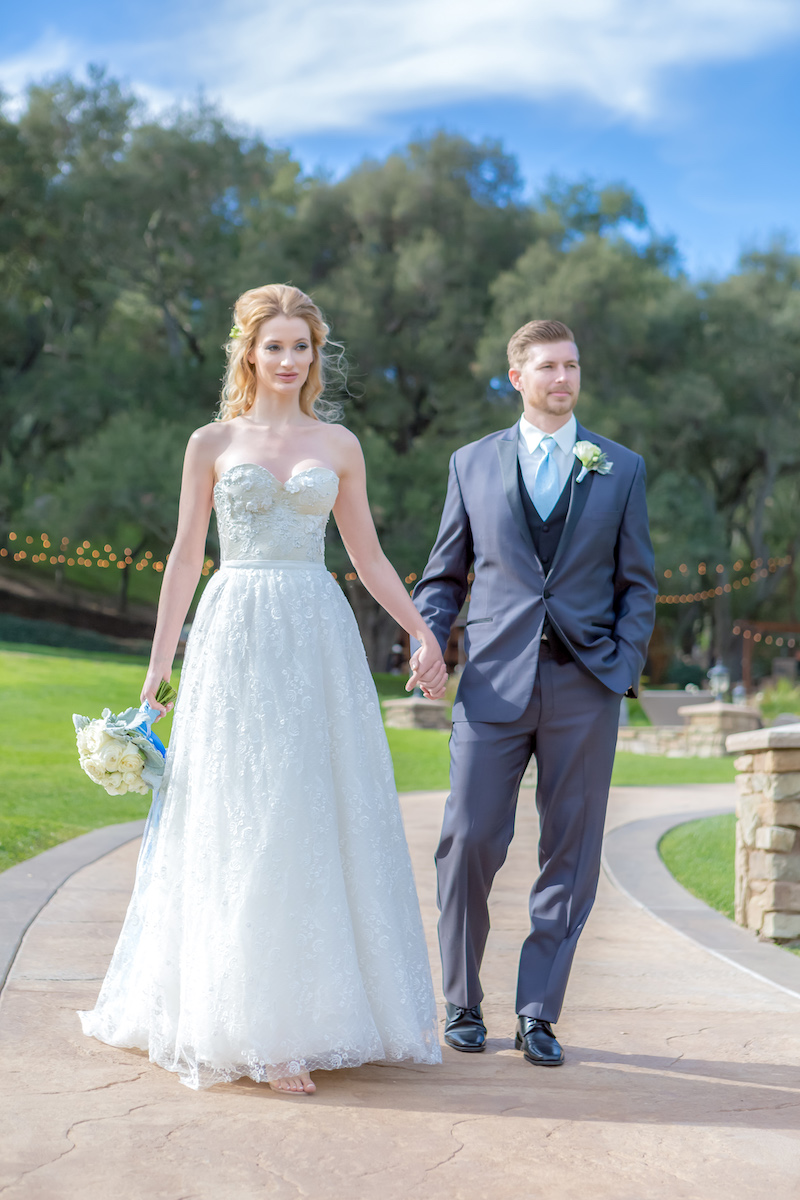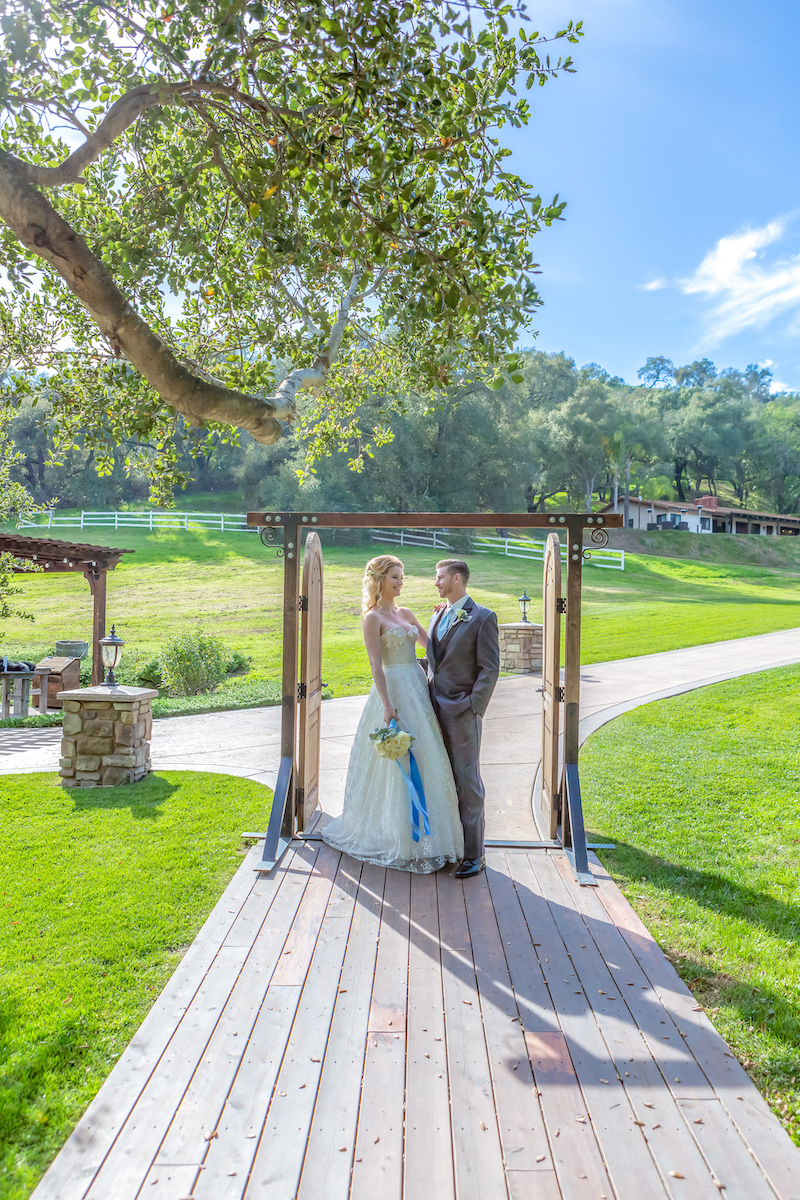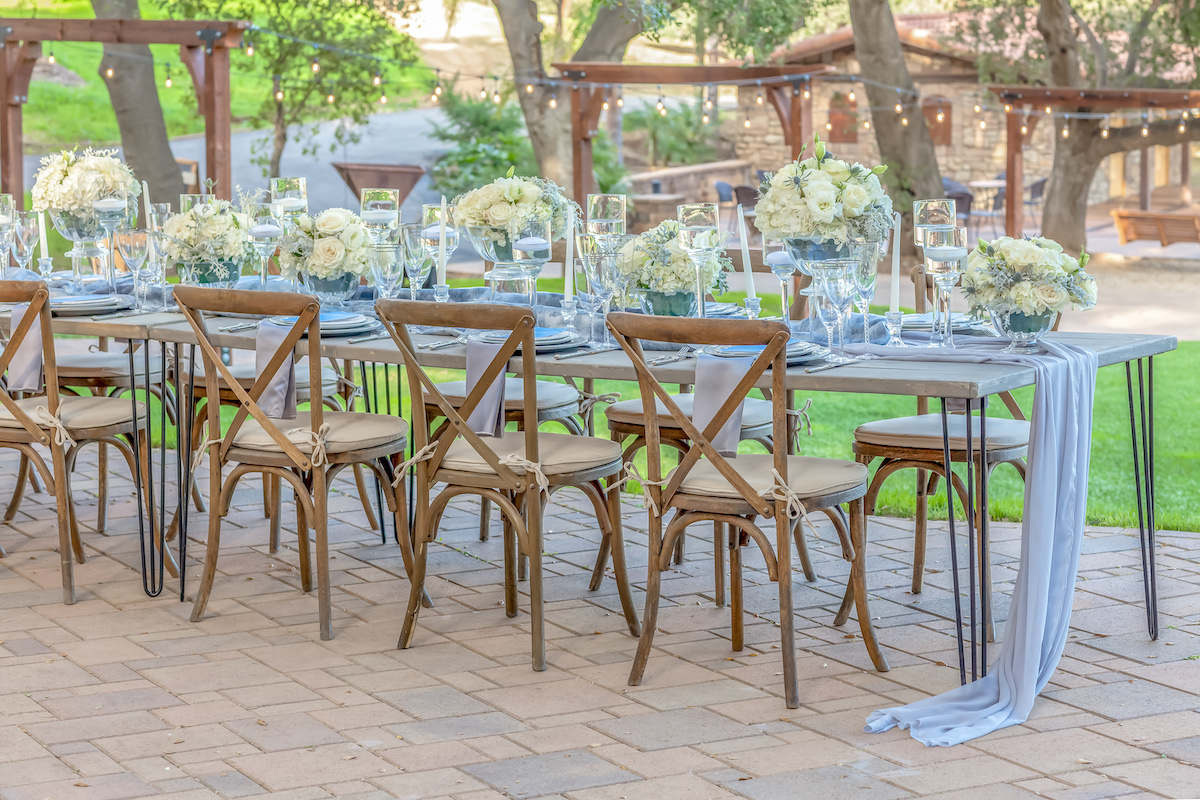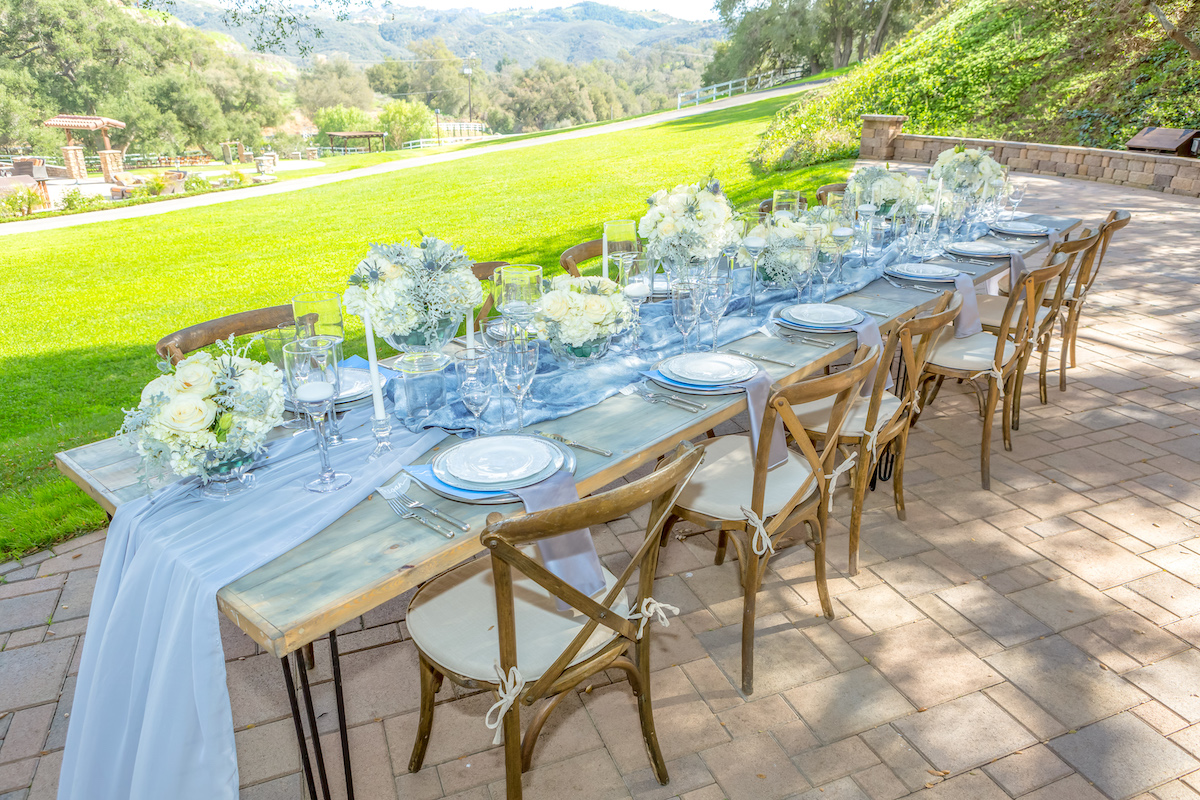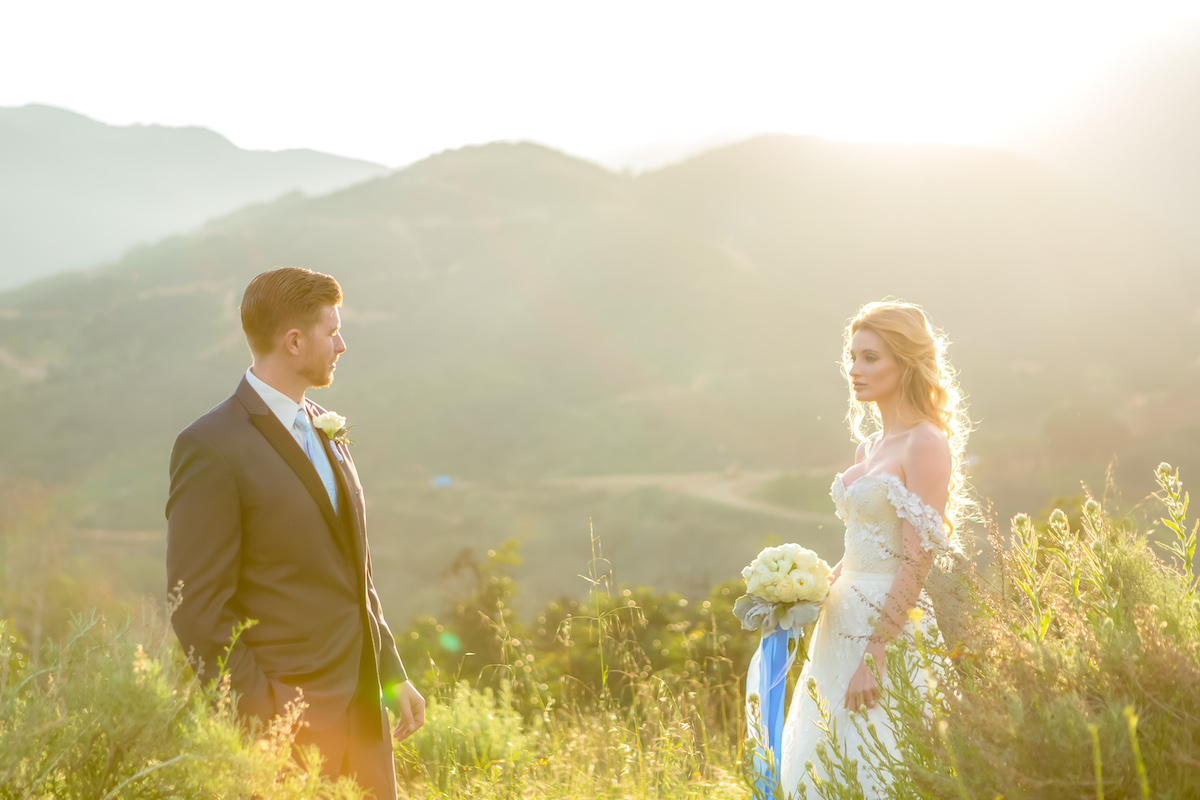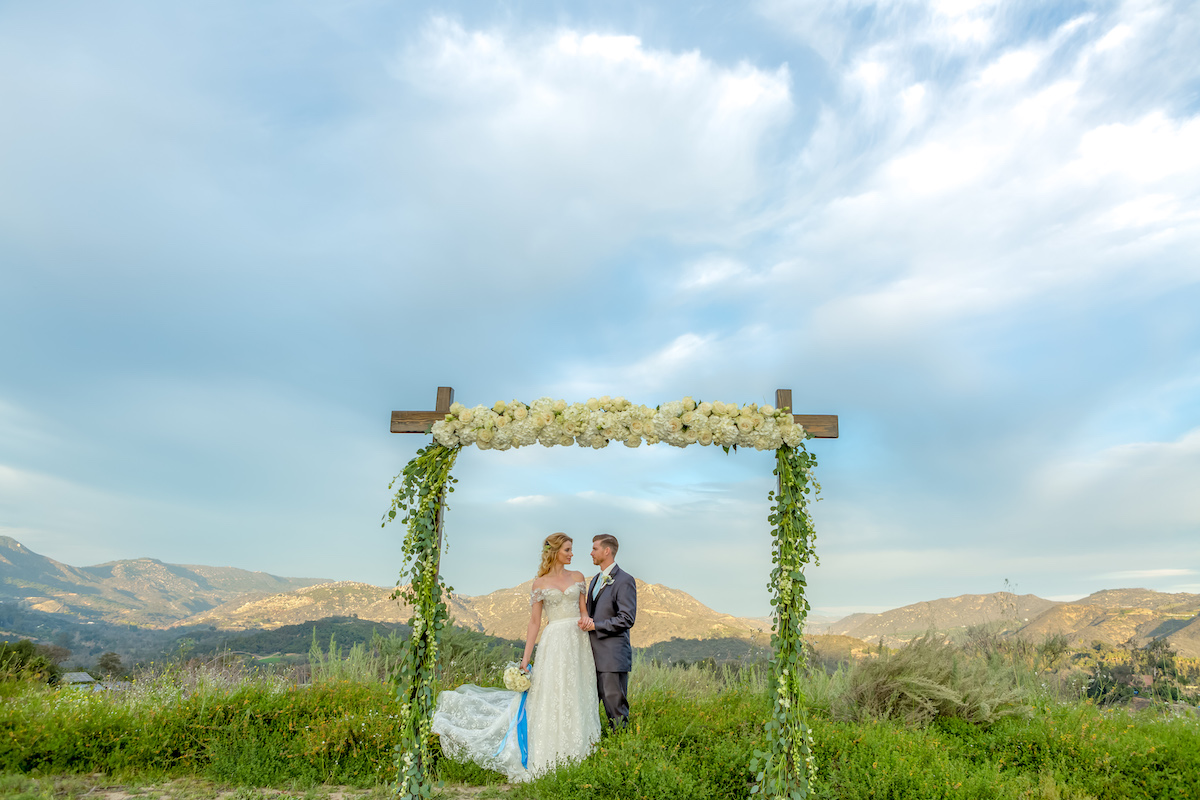 Continuing our elegant country wedding inspiration, this one-of-a-kind wedding gown was inspired by Jaime Elyse Official Couture. This sweetheart bodice ballgown is a two-piece design. The delicate Chantilly lace is floral with a small speckled motif. The skirt lace is adorned with petite sequins, and a chapel length train. The bodice is adorned with hand placed 3D lace flowers, with sequins and Swarovski diamonds. The sleeves are a delicate drape of the Chantilly lace, which are removable, creating an overall delicate feel to the gown.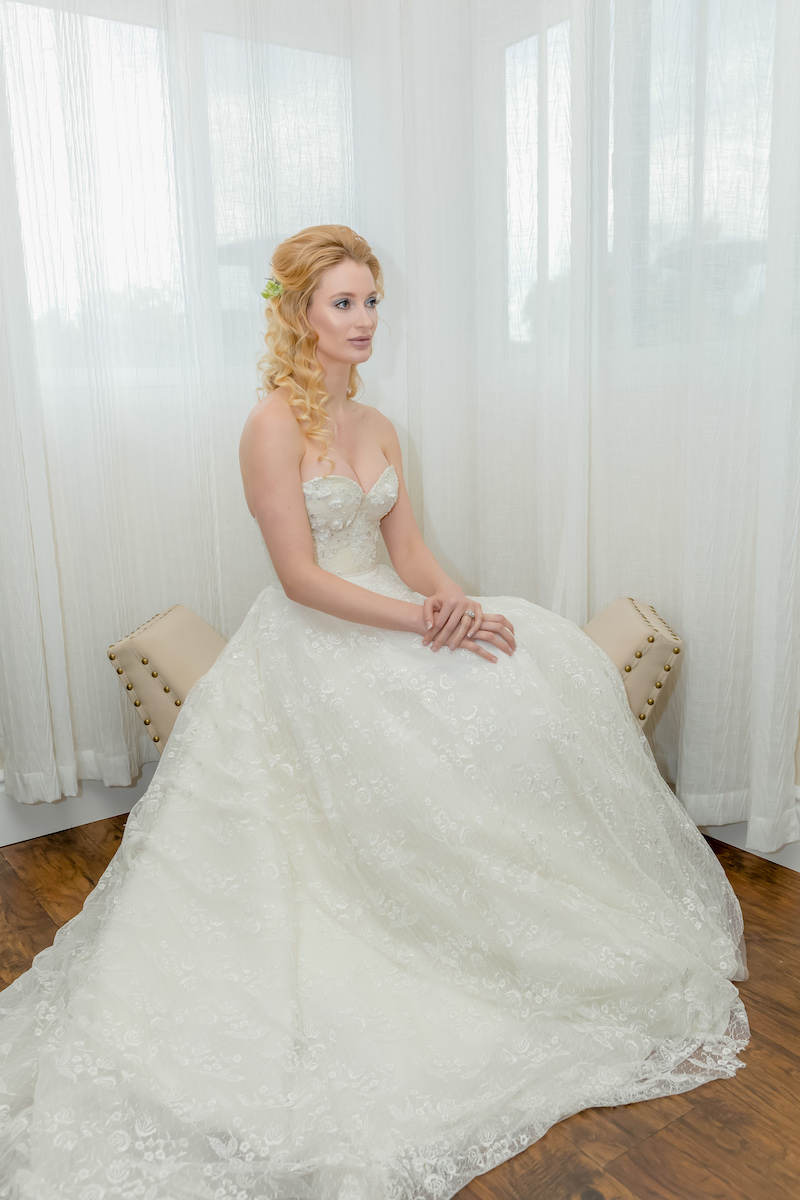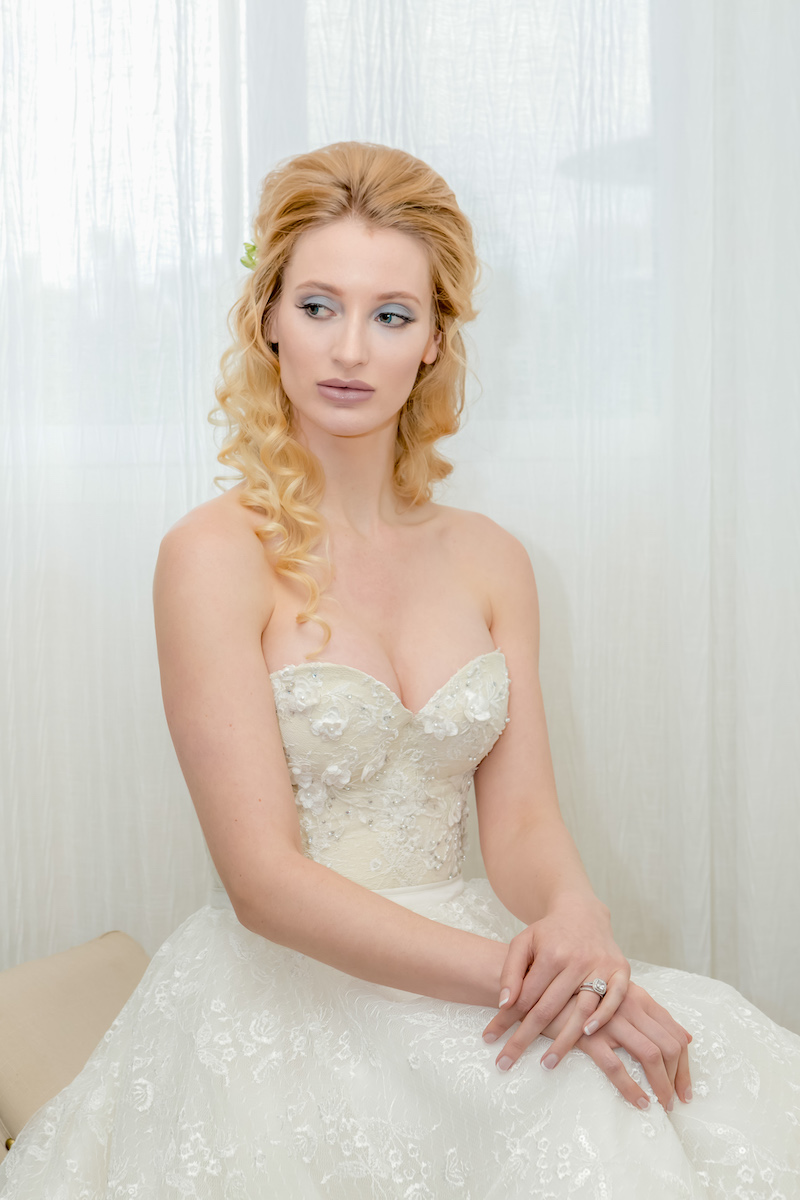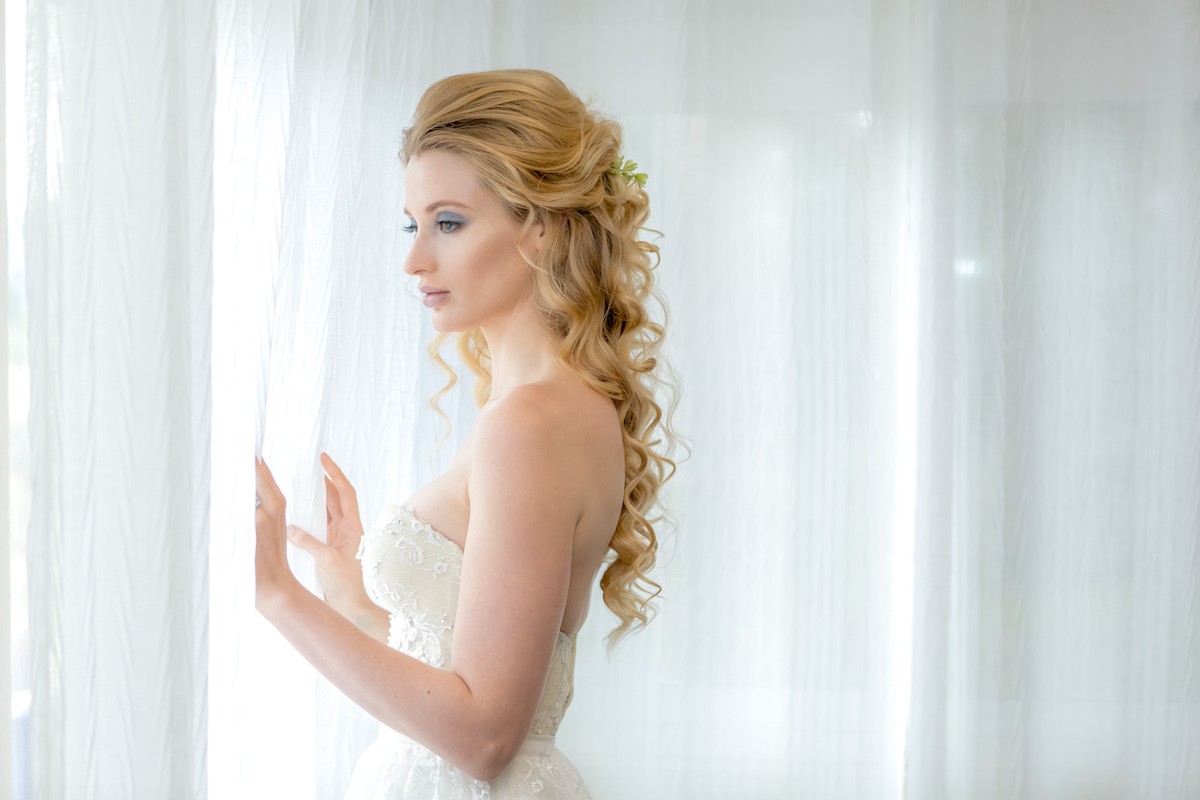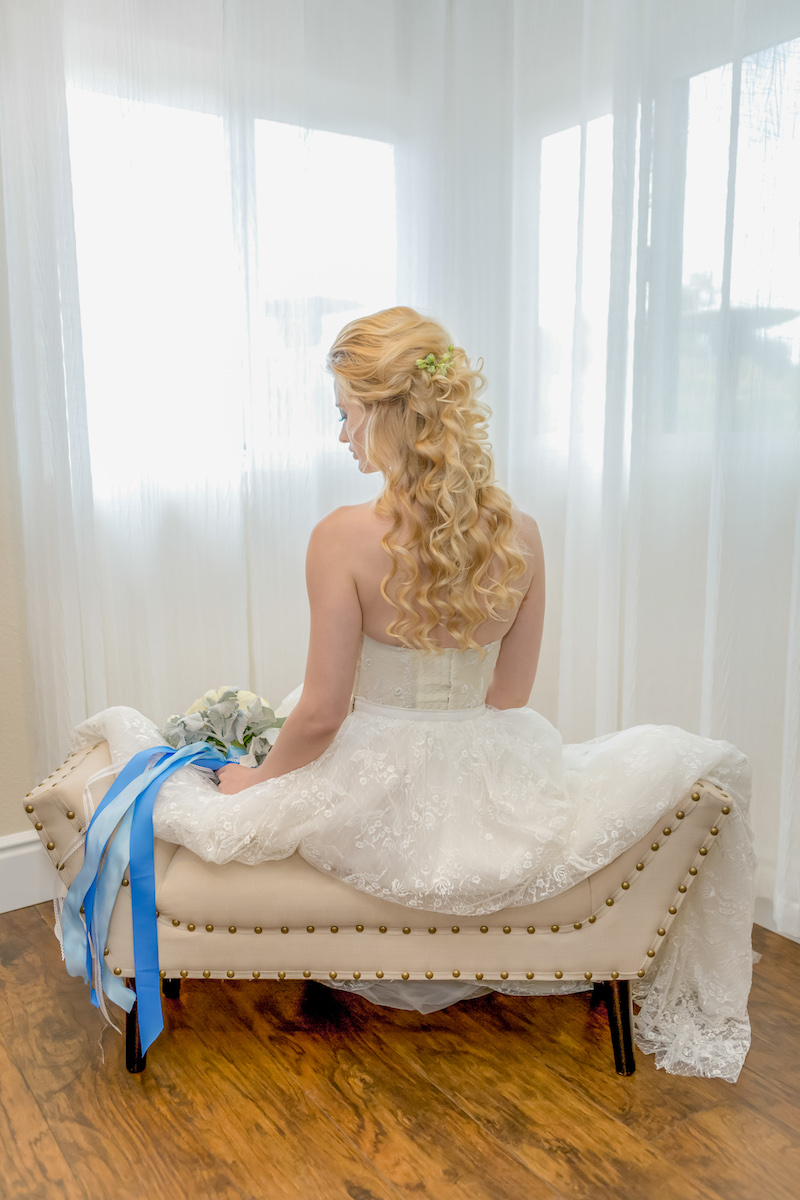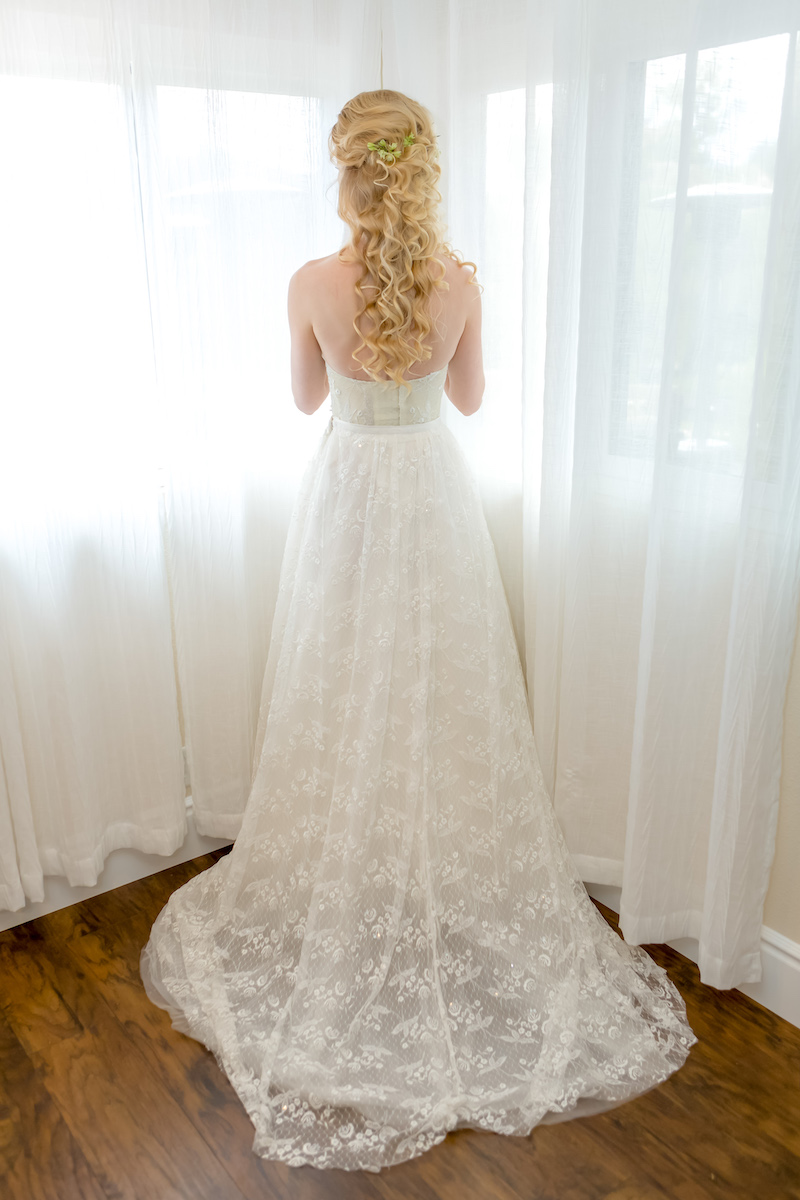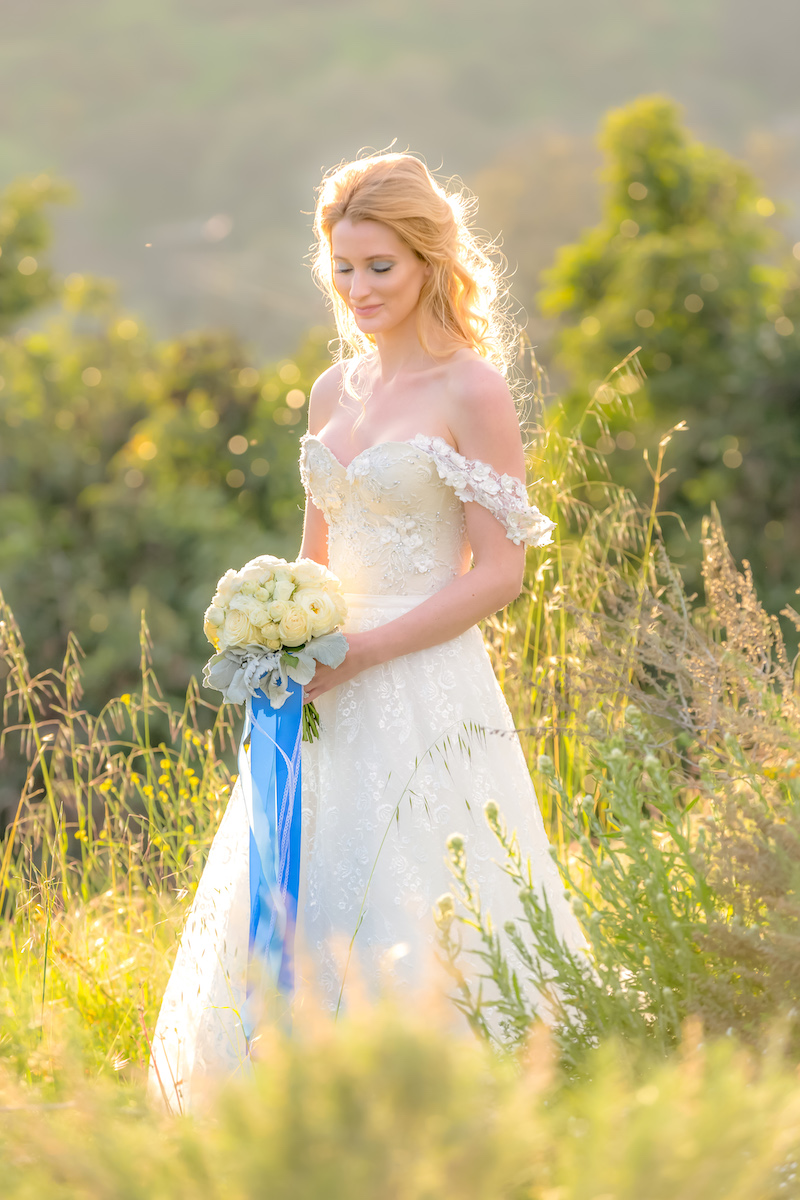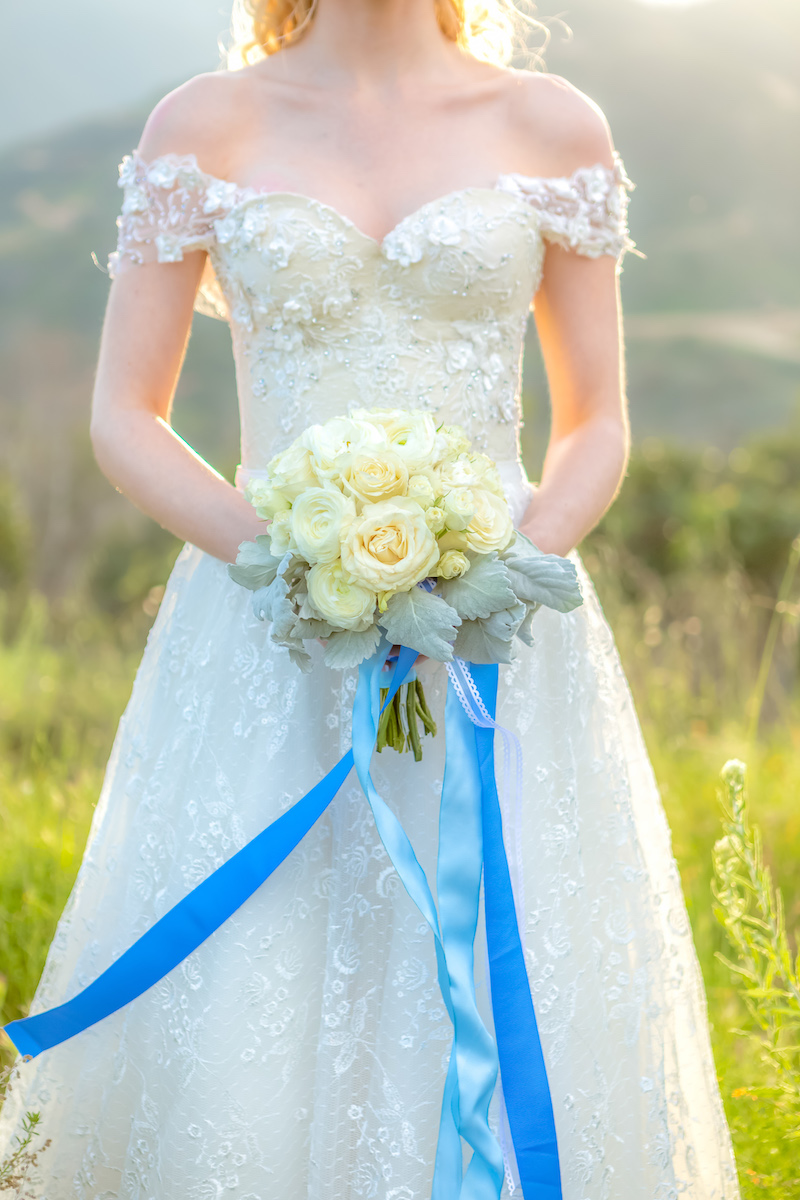 After final preparations in the hilltop bridal suite that overlooks the entire ceremony site, take your unforgettable "bride walk" towards your enamored guests, the double entry doors lead to the over 150-year-old oak tree, a centerpiece for this venue. Once you stand under the great oak tree in the center of the intricately placed wood aisle, both of you can be seen next to the cascading cream rose florals that fall discreetly down the trunk encompassing the beauty of the oak tree. Shaded by the limbs of the grandfathered oak, all of your guests will have a front row view of the ceremony.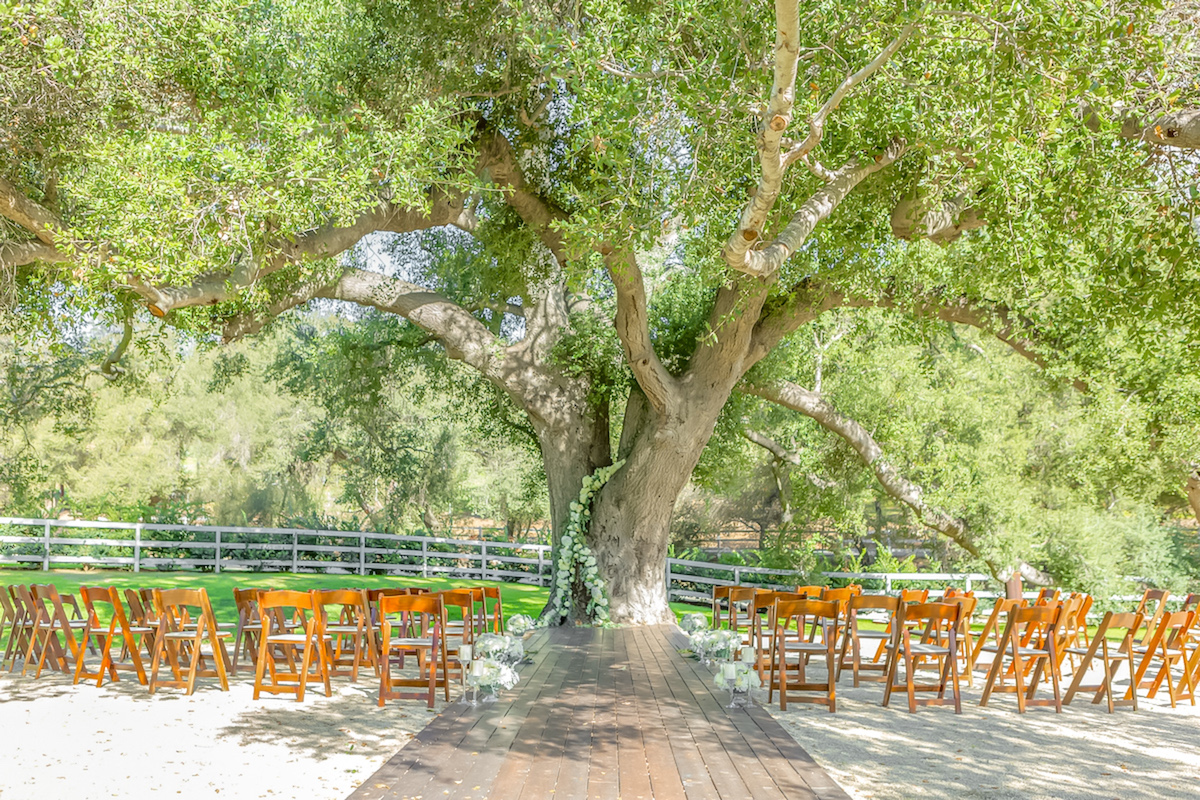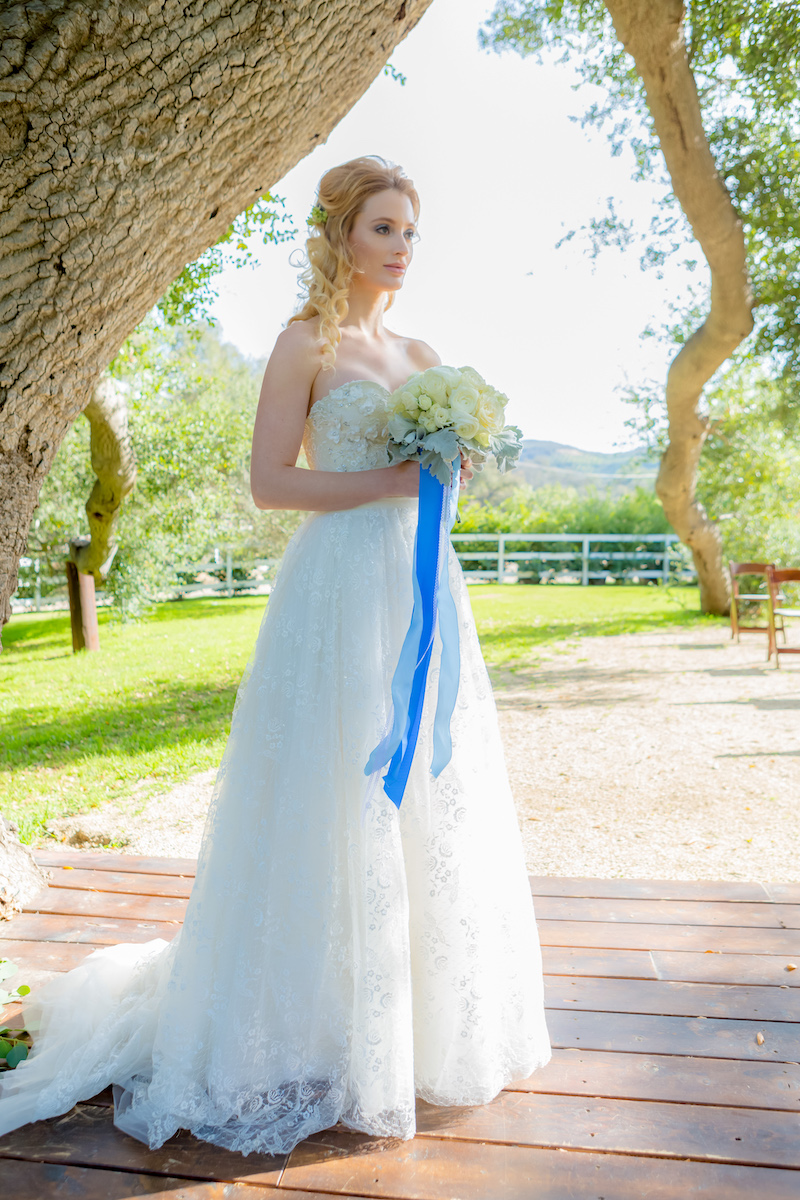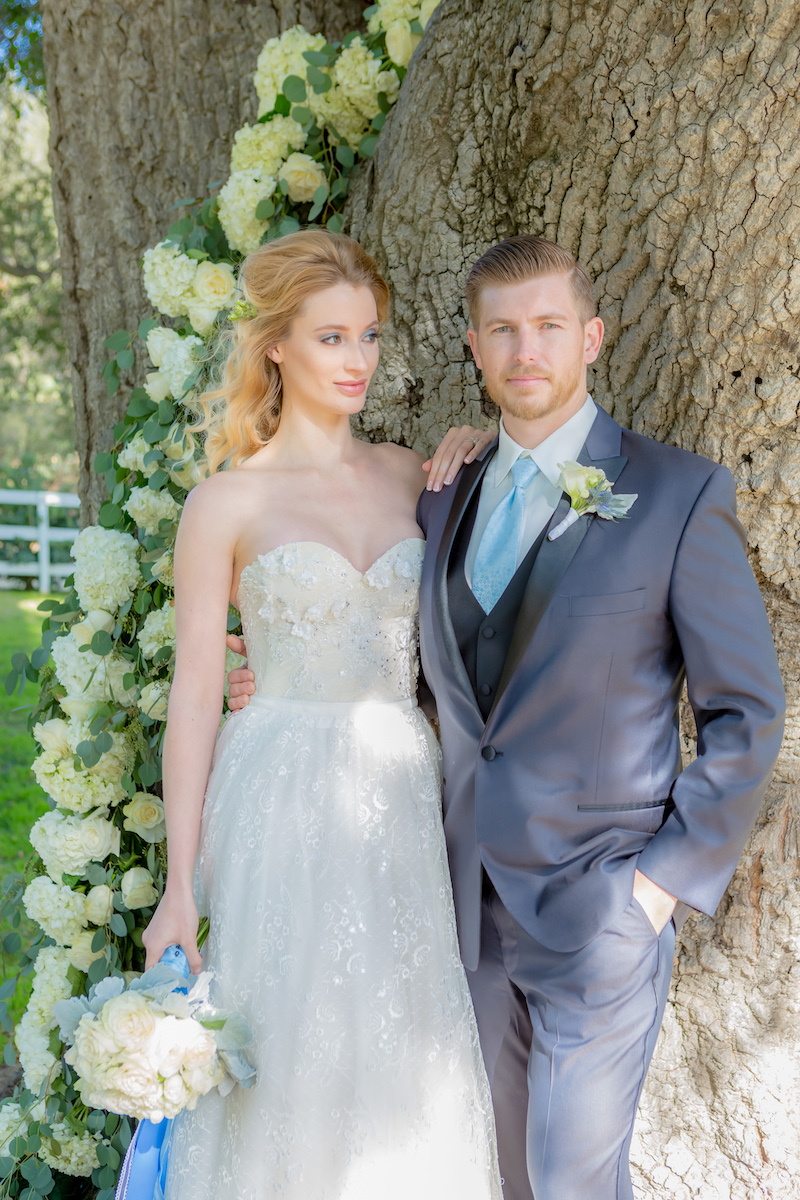 With collaborative design inspiration from Tahnie Nollenberger of Ivy Weddings and Events, the natural landscape called for a more traditional and romantic feel. There is so much natural greenery surrounding the estate, she chose to create a sense of tranquility, elegance, and glam. Instead of garlands of eucalyptus that you see so many times with the rustic-style venue, she opted for cloud fabric, big white blooms and a touch of chiffon. It adds just the right amount of refined style to still feature the gorgeous light wood and metal hair-pinned tables without completely covering them. In addition, Tahnie knows couples want to see unique glassware at their wedding, especially when they are pairing it with their favorite customized wine for their guests. The silver rimmed twist stemware set offers a graceful and dainty addition to the table setting that will be used with local wine from Europa Village's artist, Steven Van Art, who created speciality art pieces for their wine bottles. These add just another touch of original details your guests will appreciate. In addition, with the continued popularity of plated dinners, Tahnie mixed textured and patterned plates with a metallic charger and hand-decorated menu cards, exhibiting a more city-meets-country elegant vibe.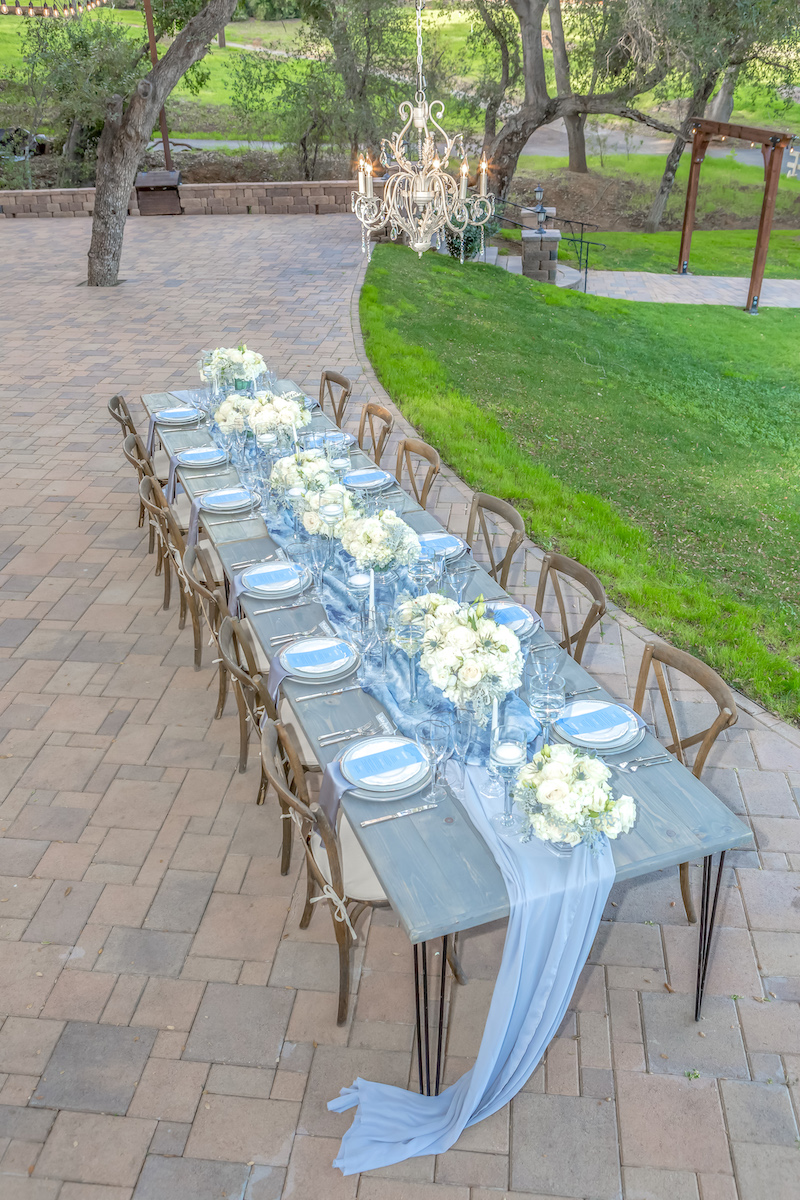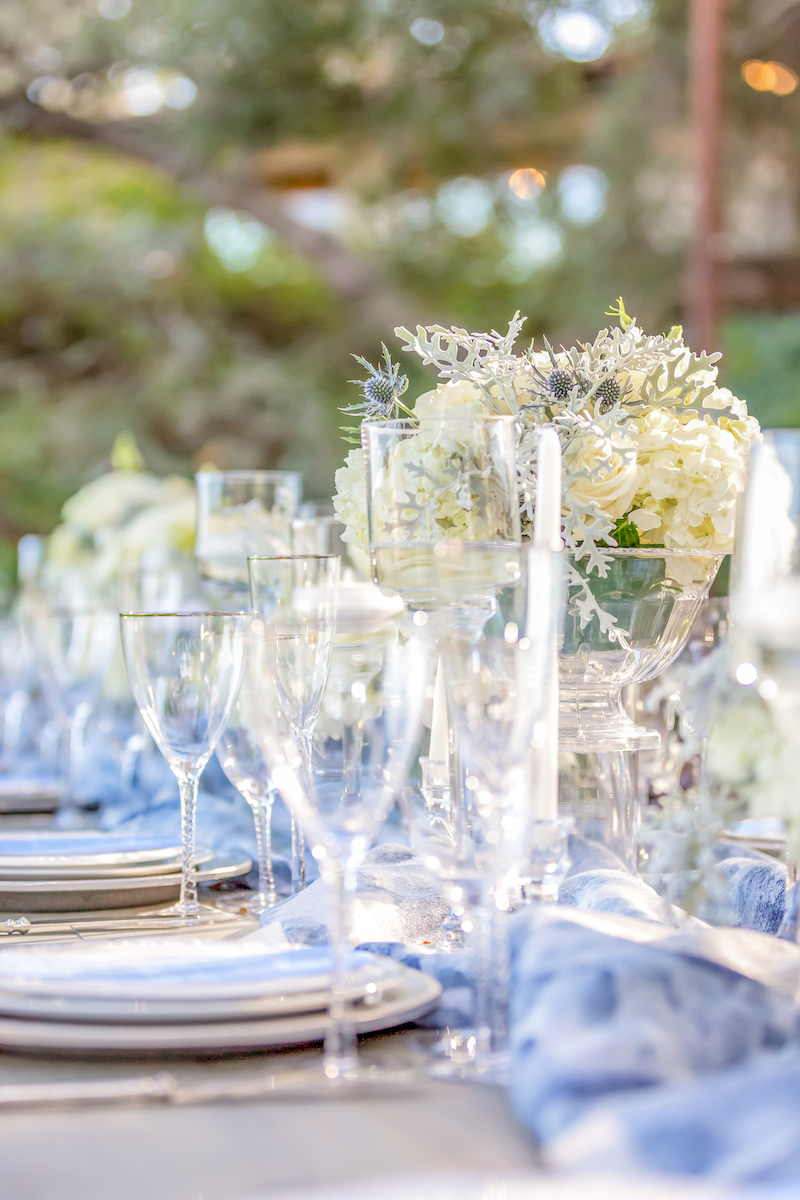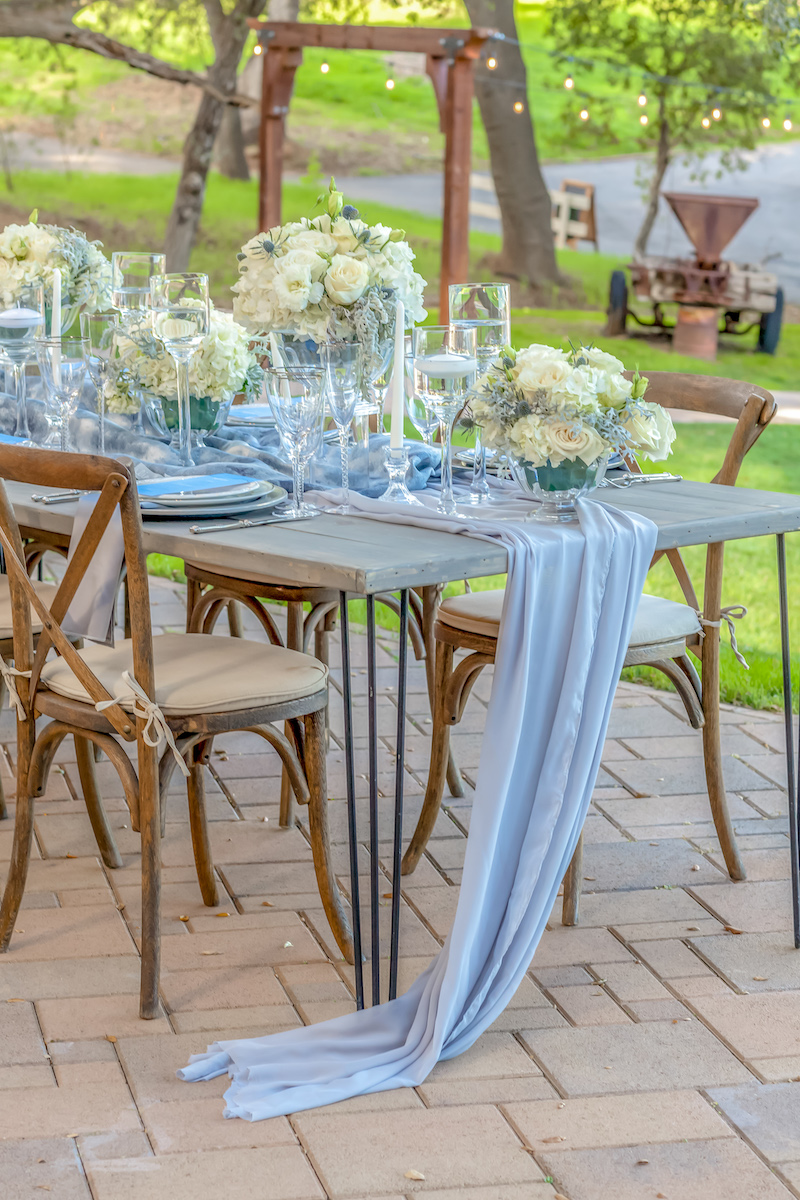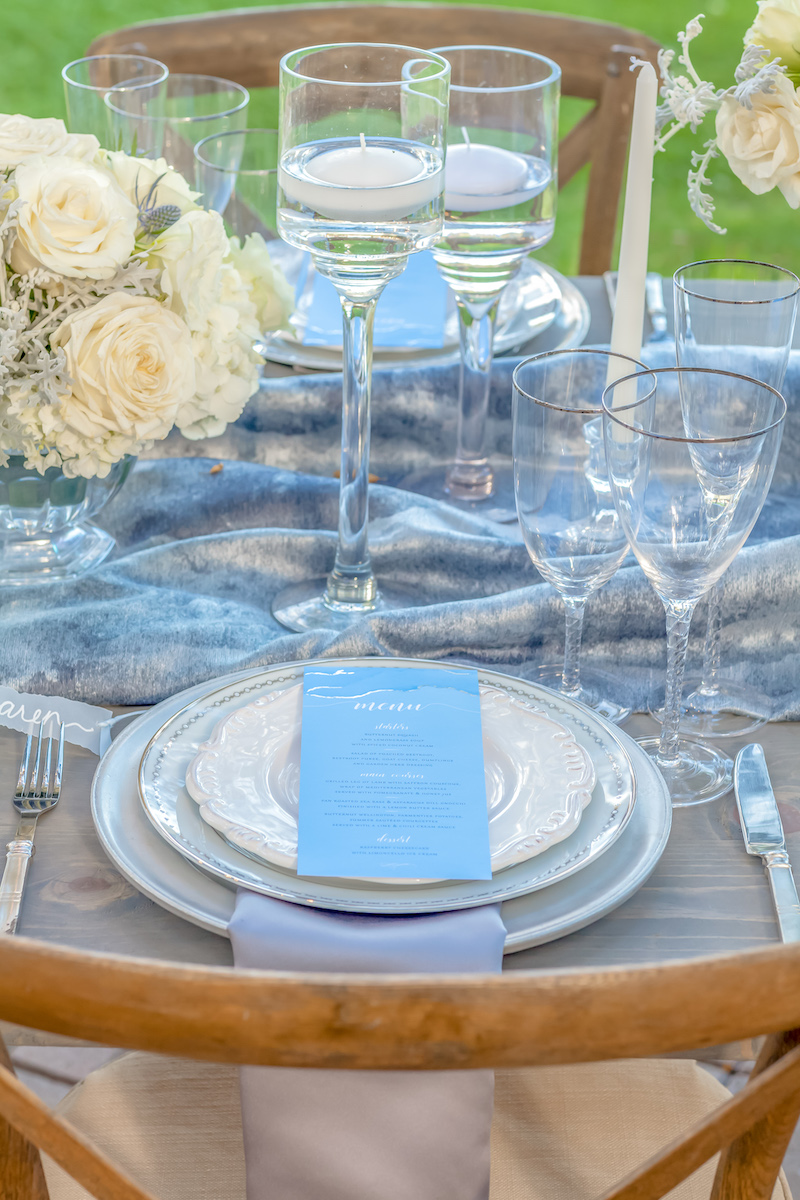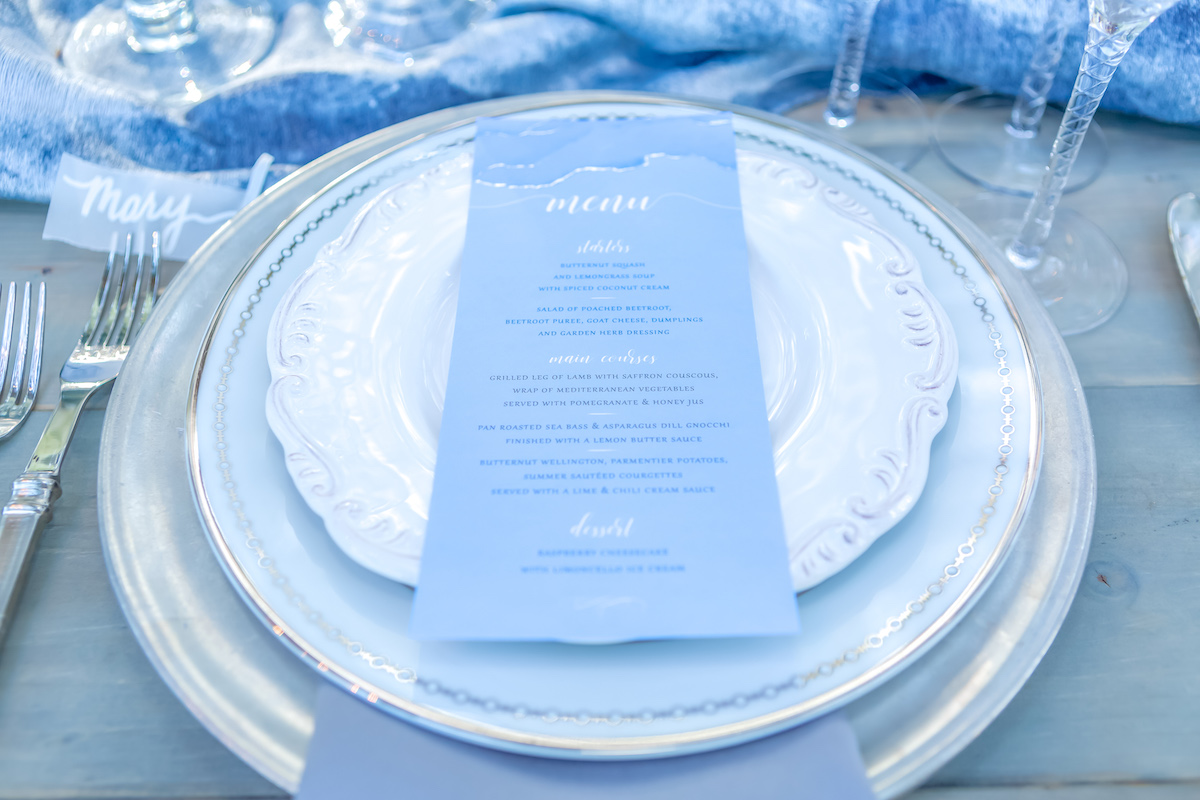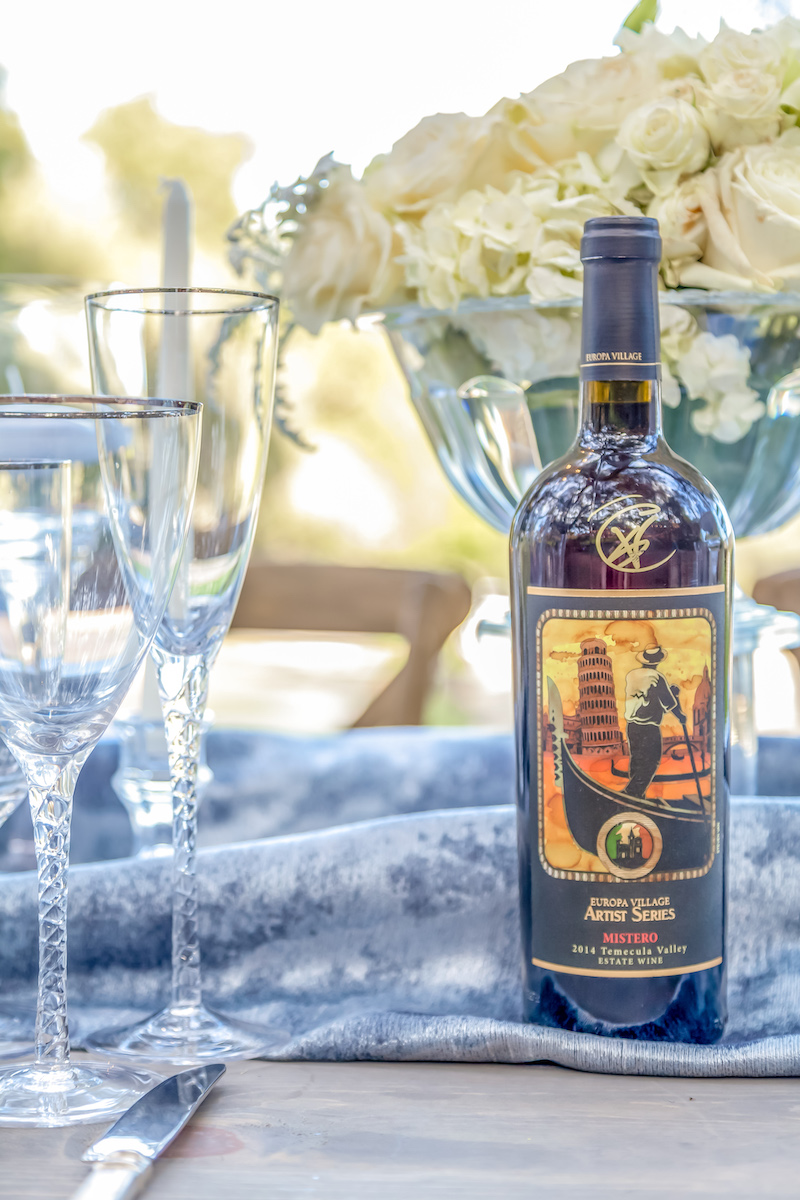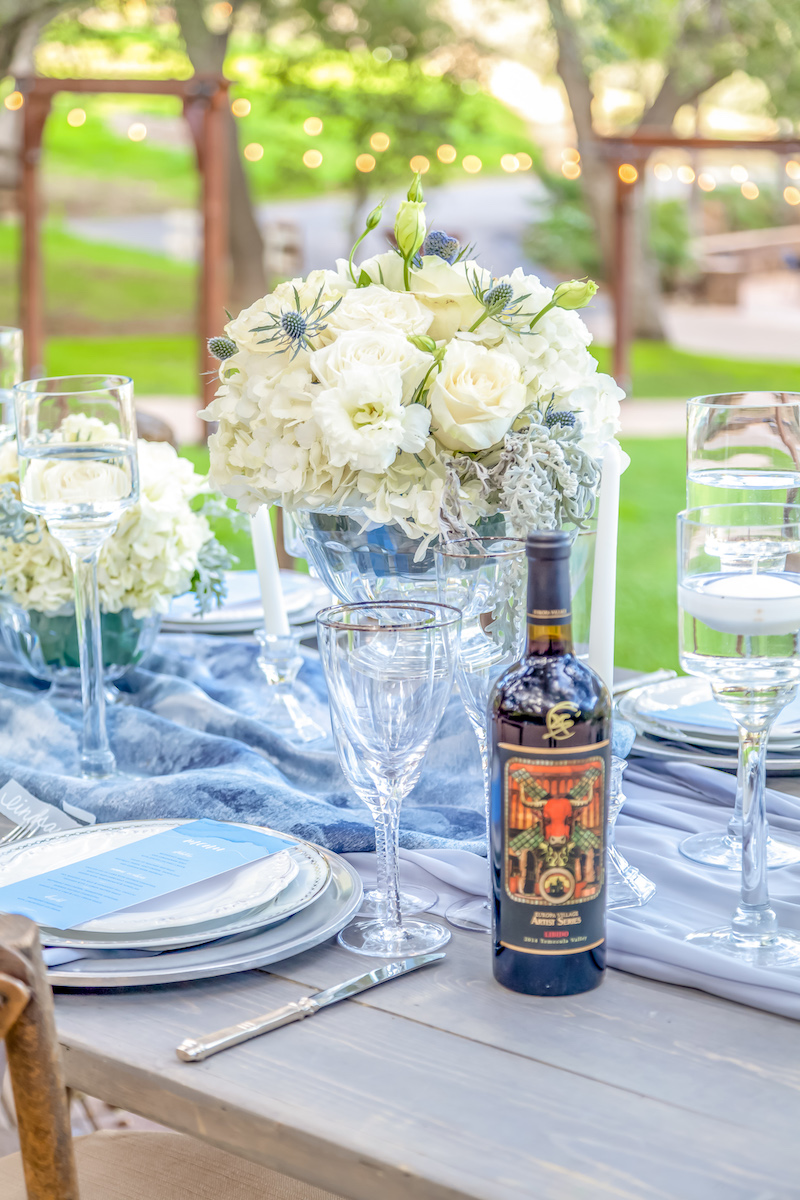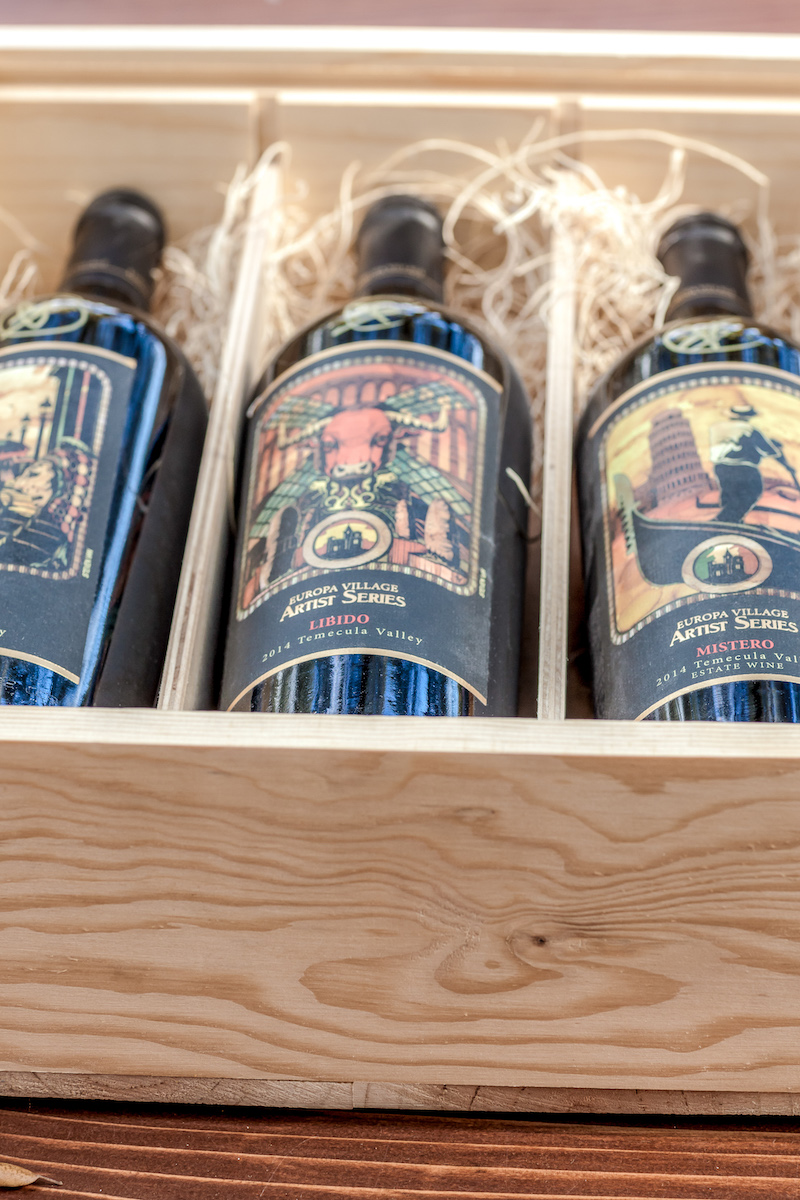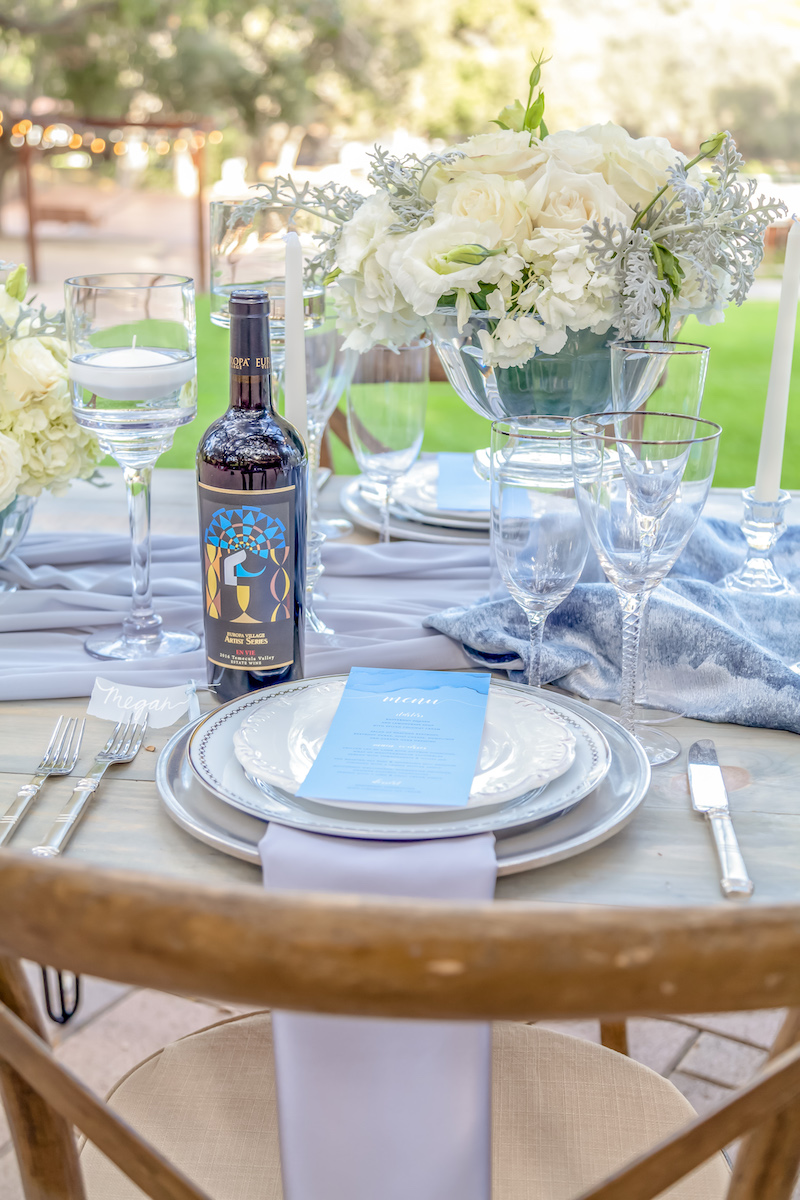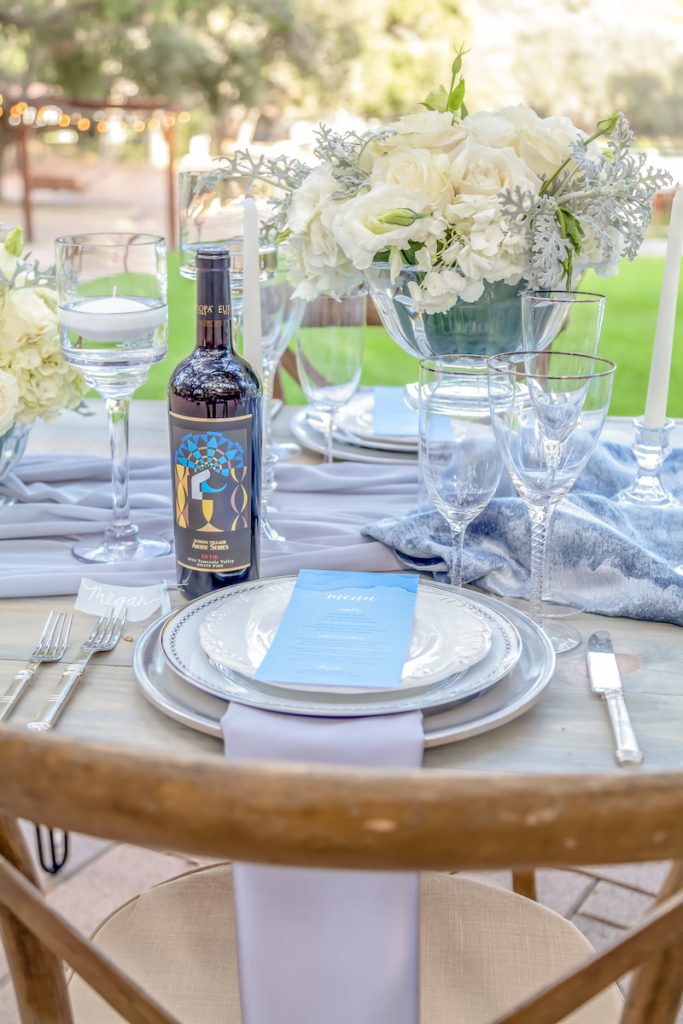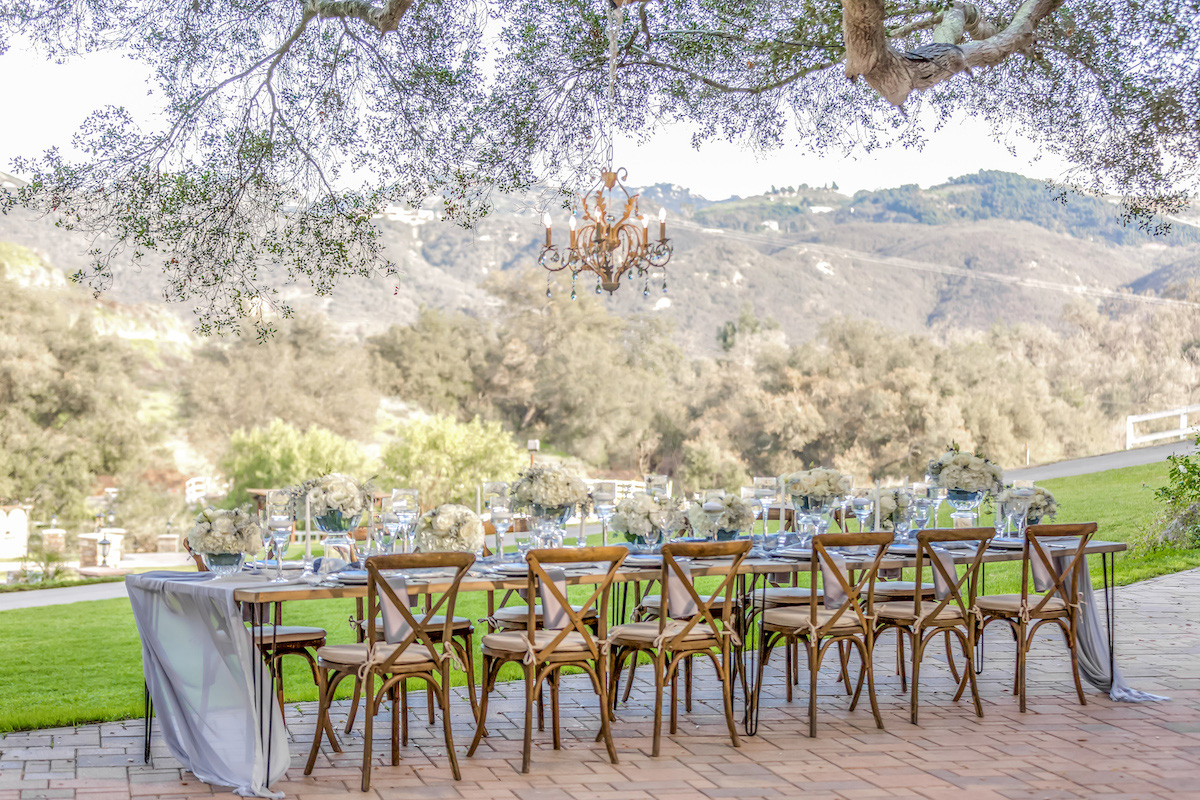 Along with the dusty blue, gold and silver themed wedding details, there is an additional way to make this wedding day as unique as the couple in it- handmade gold leafed wedding invitations and personalized wedding vow cards, something you will cherish as part of the memory of your magical day. Hand created by Paper Doll Invitations, details like these don't go unnoticed from you esteemed guests, and if you are anything like us, those delicately pondered over wedding invitations are kept for a long time!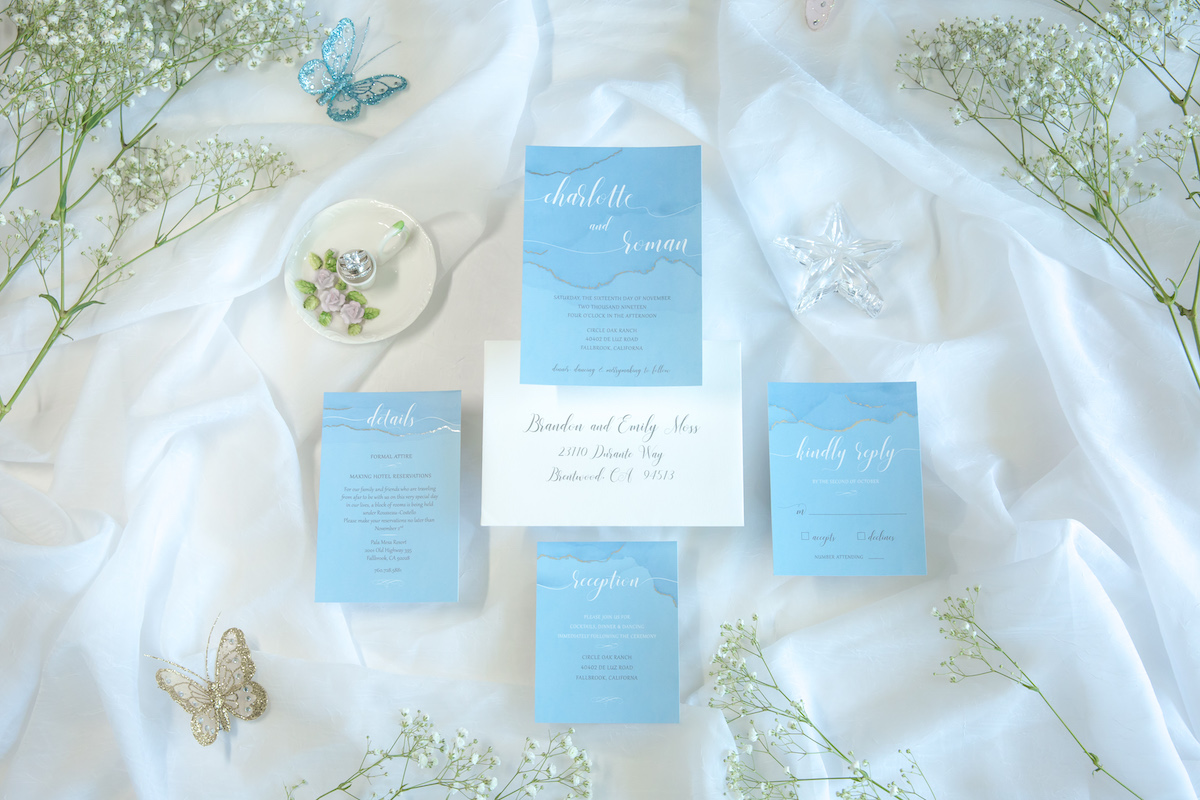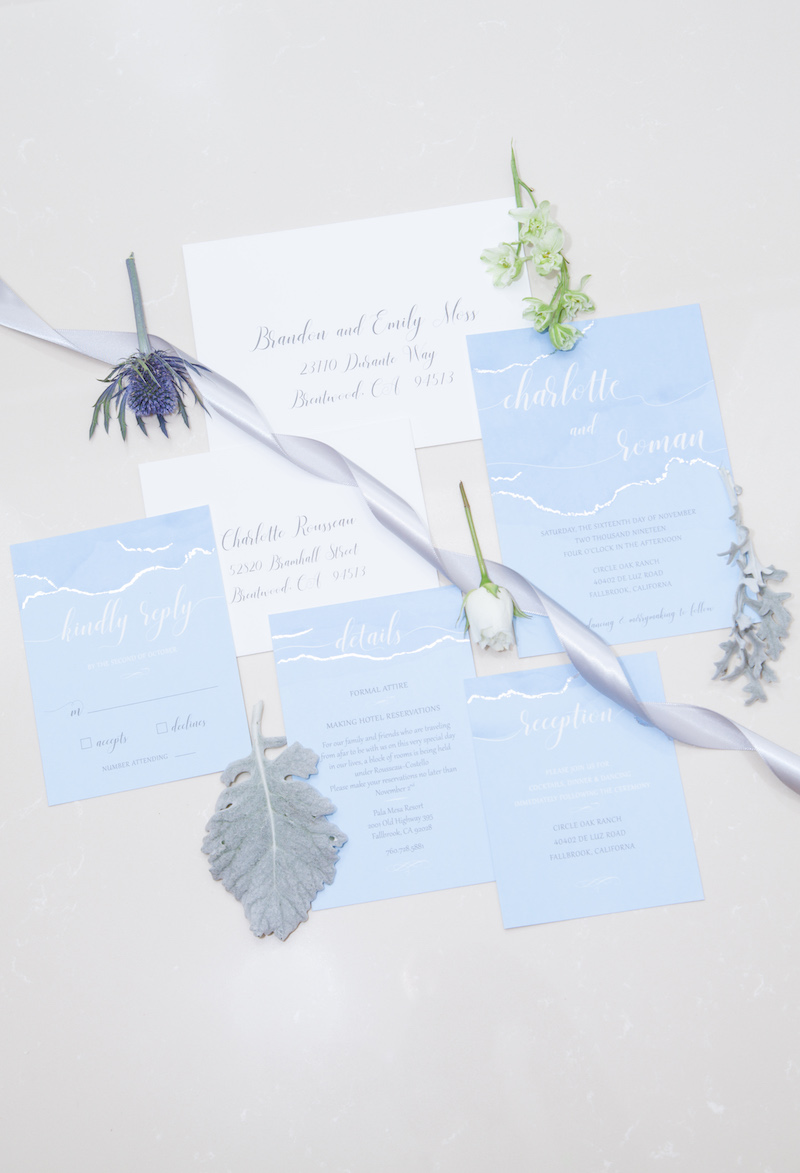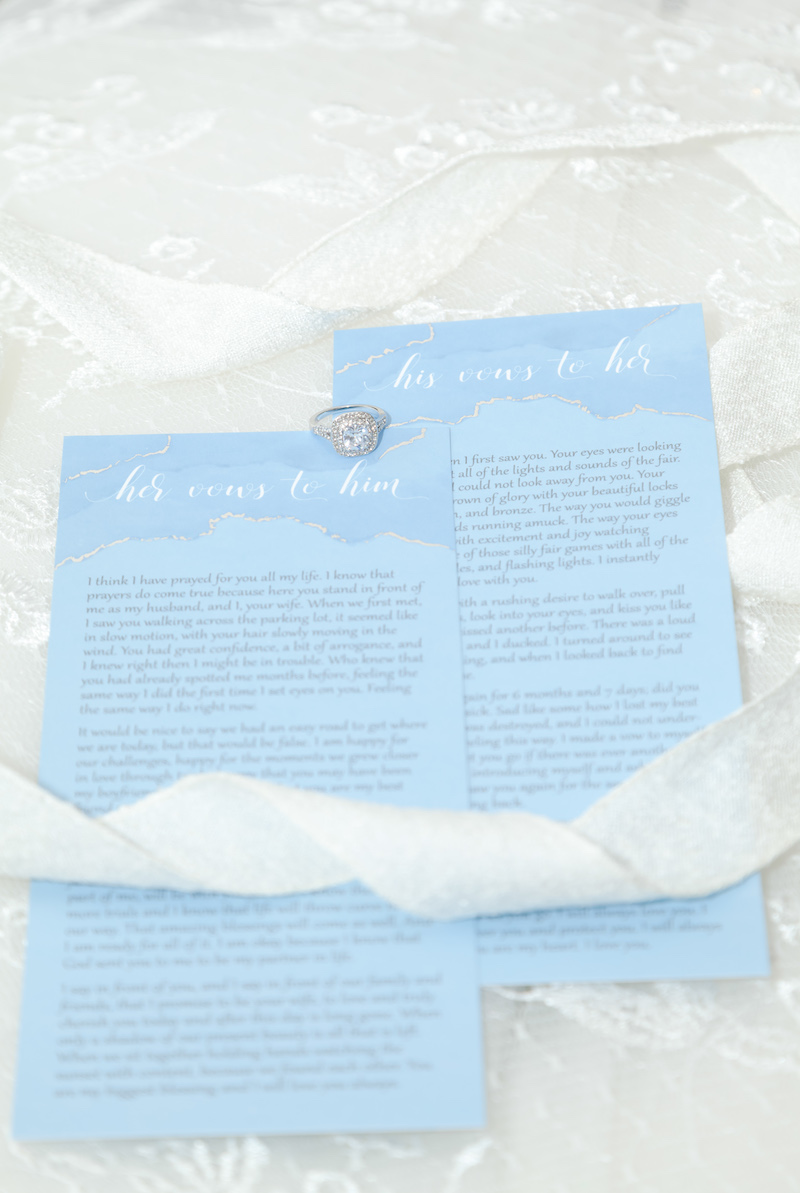 The wedding cake creation was designed with the dusty blue hues in mind swirled with a coconut cream that flow seamlessly set against the hilltop sky of southern California. Each layer set apart with coconut sweet cream, double chocolate mousse, and white cake with buttercream. The delicate flower hand-crafted and arranged by the very own Elegance on Display, a local favorite in nearby Fallbrook, CA. The sweet sugar garden flower favors the day's color appeal, each petal handmade. The dust of gold placed ever-so-slightly to make this masterpiece sparkle in the sunlight.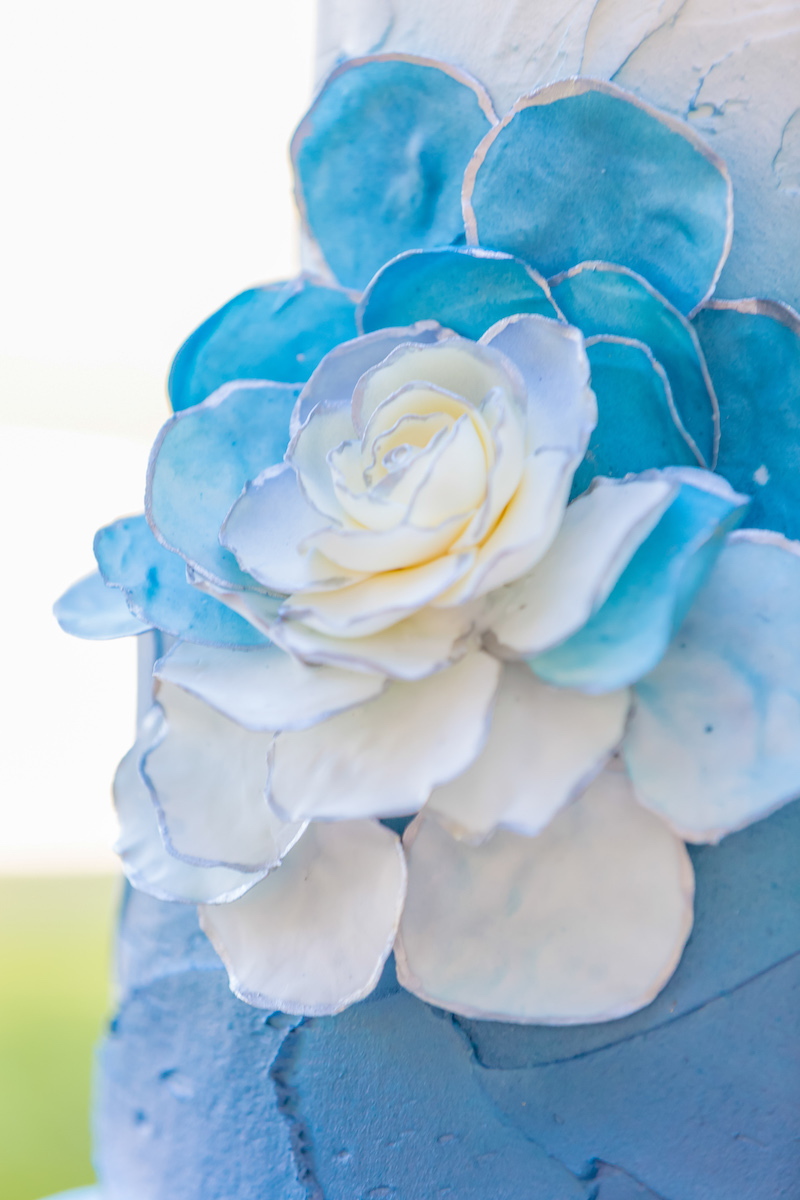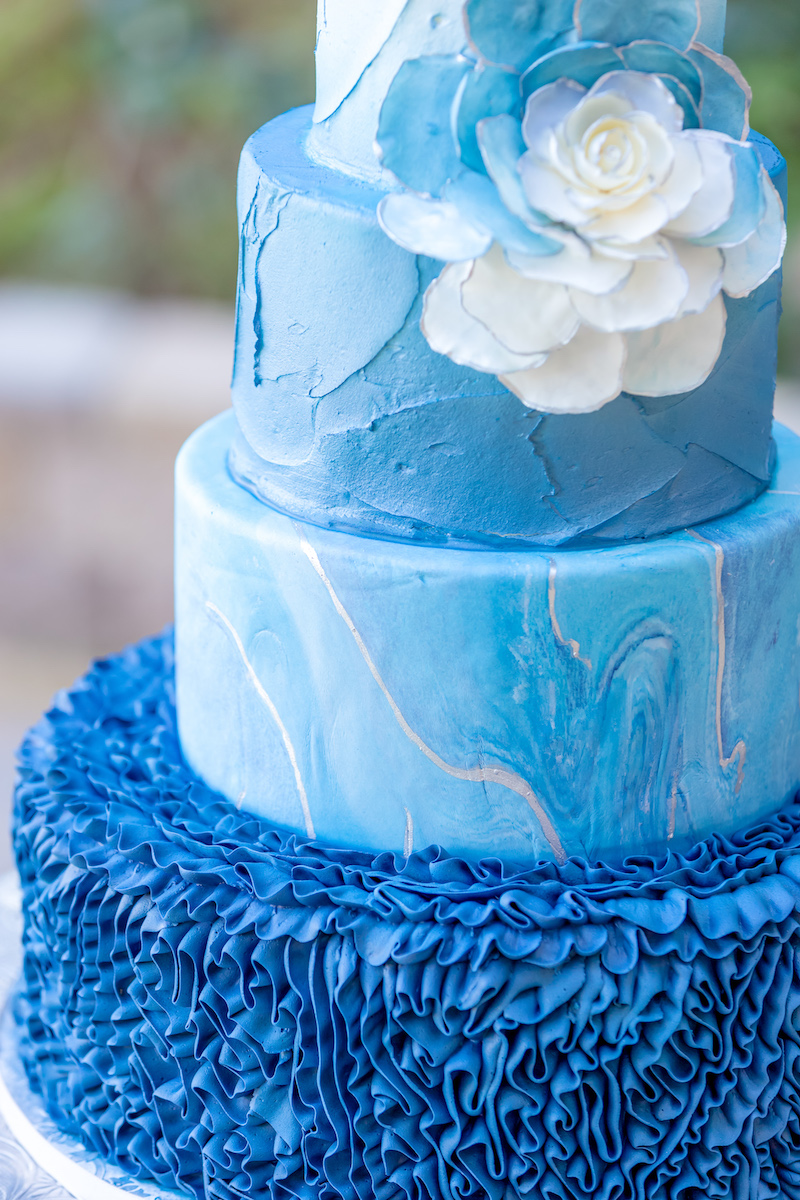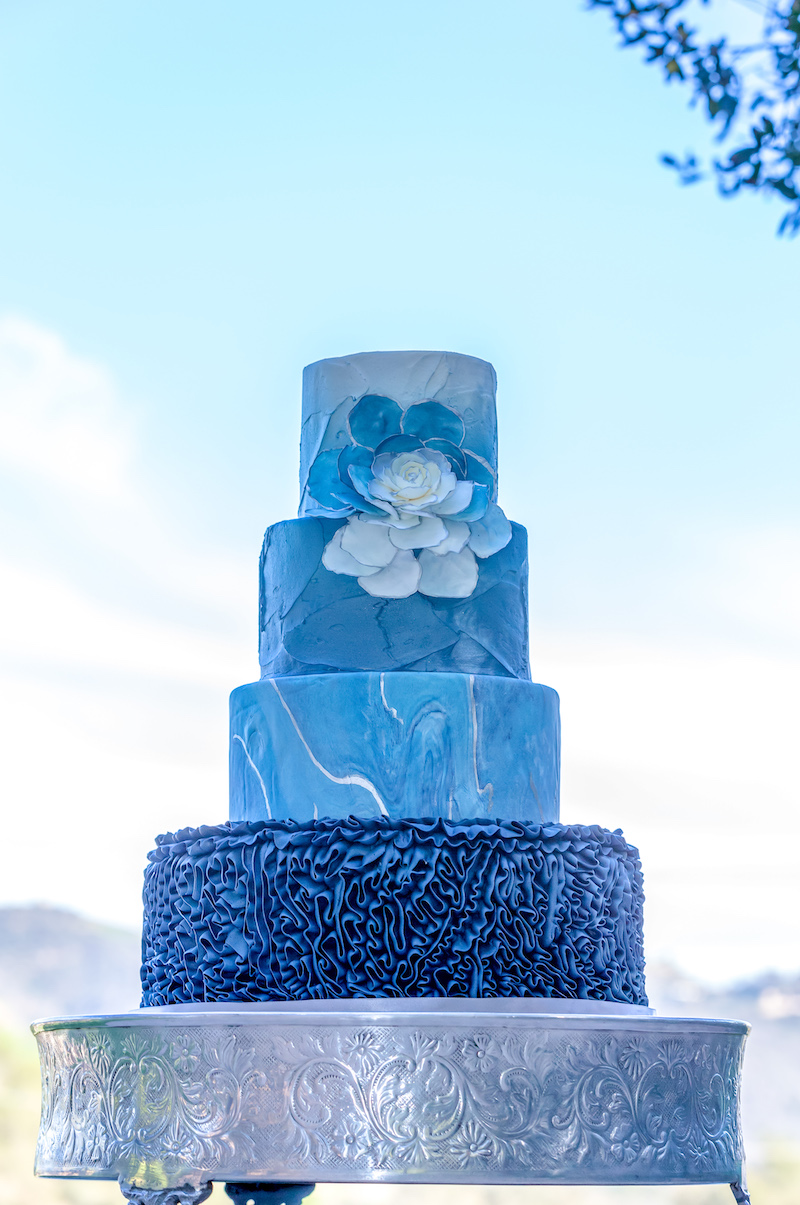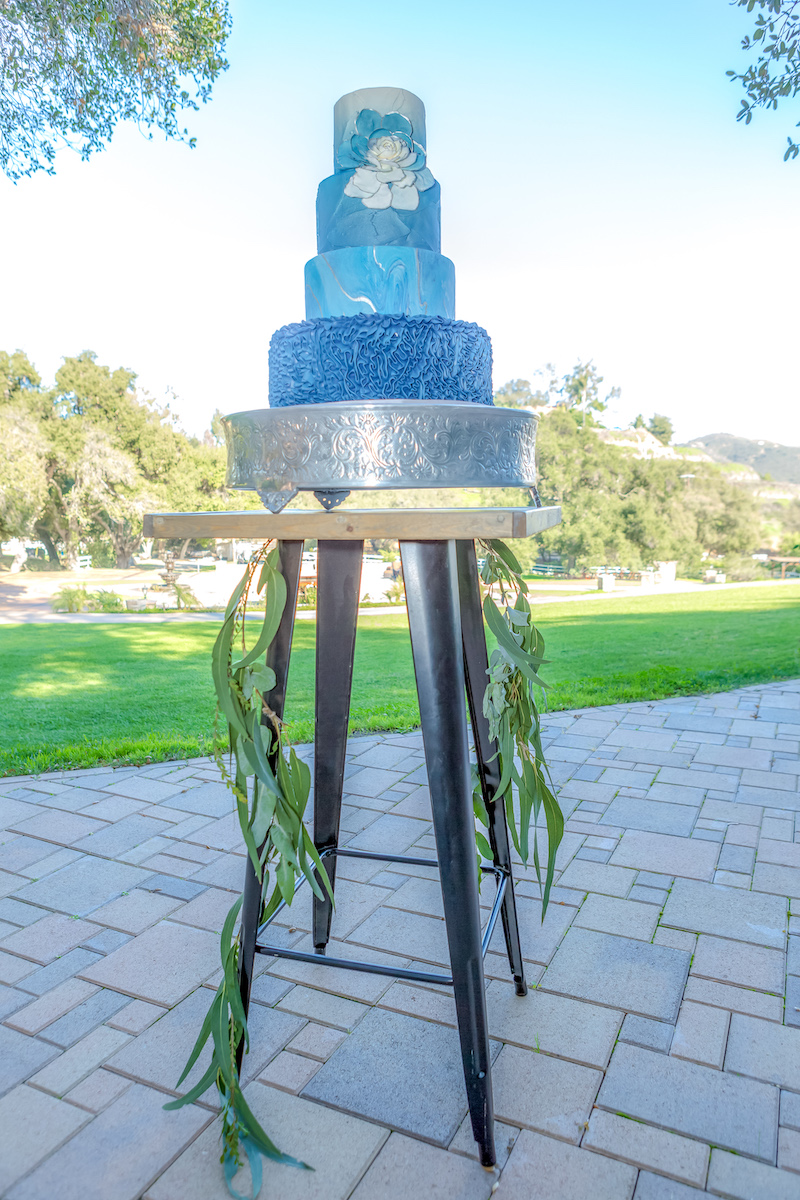 Finally, the reception courtyard is perfectly placed for the most stunning views of the property and ceremony site that gains an overwhelming feeling of awe and excitement. This stunning panoramic view of the perfect epic ranch home was the overall influence for the reception location featuring night photography. The addition of up lighting against the landscaped trees and night sky makes for unforgettable evening views, creating vibrant atmosphere for the celebration that is to come. Thus, this venue creates an elegant Southern California ranch wedding experience that will provide a lifetime of memories for the both of you.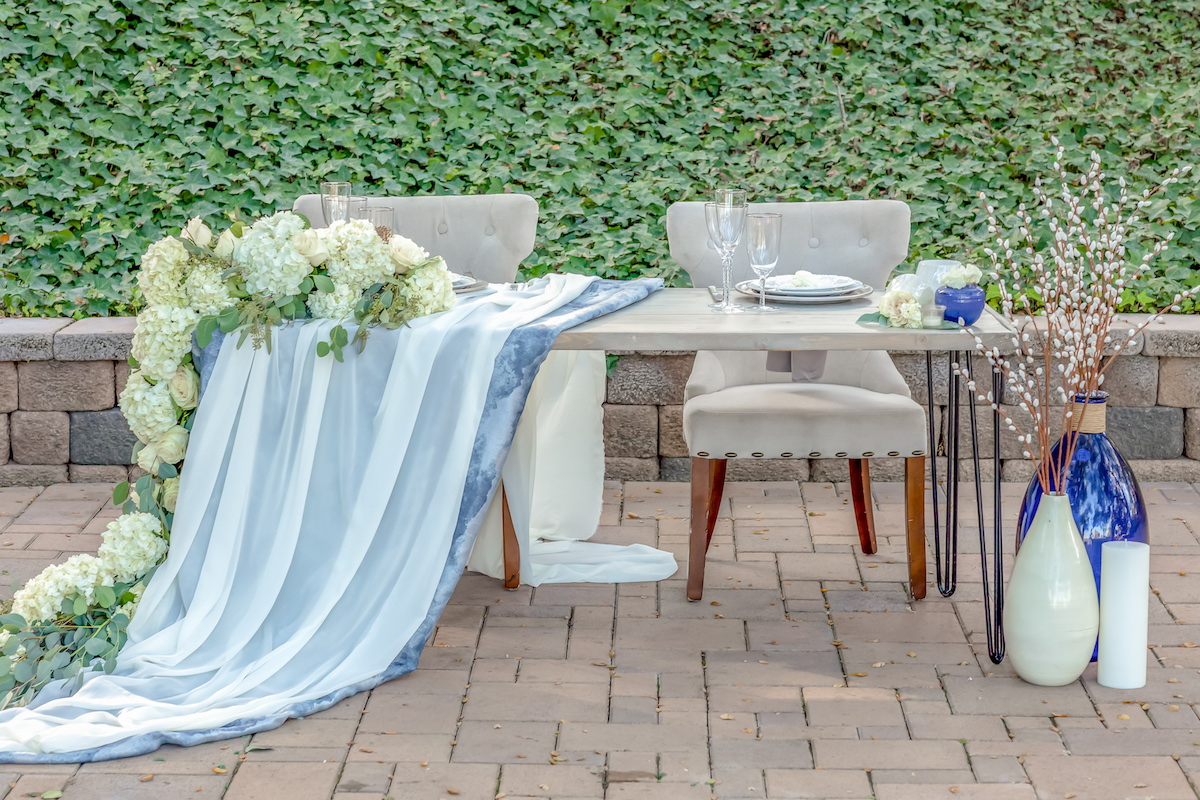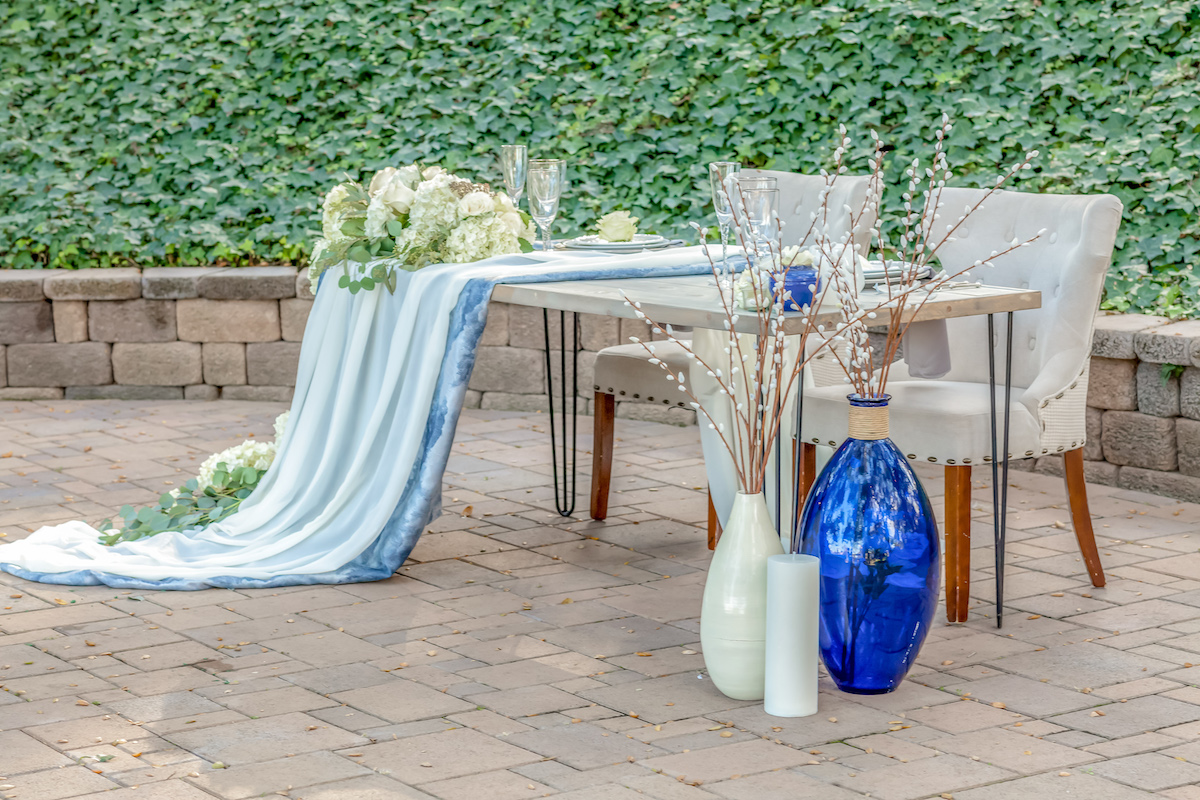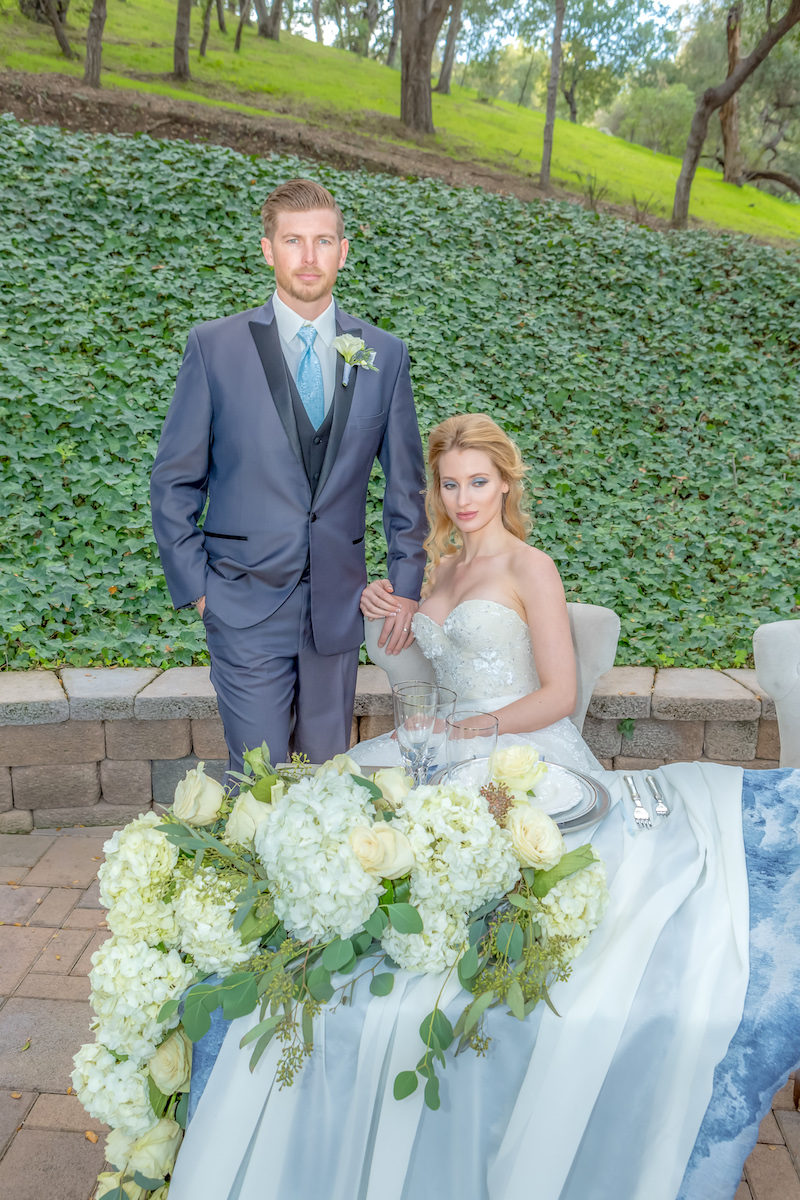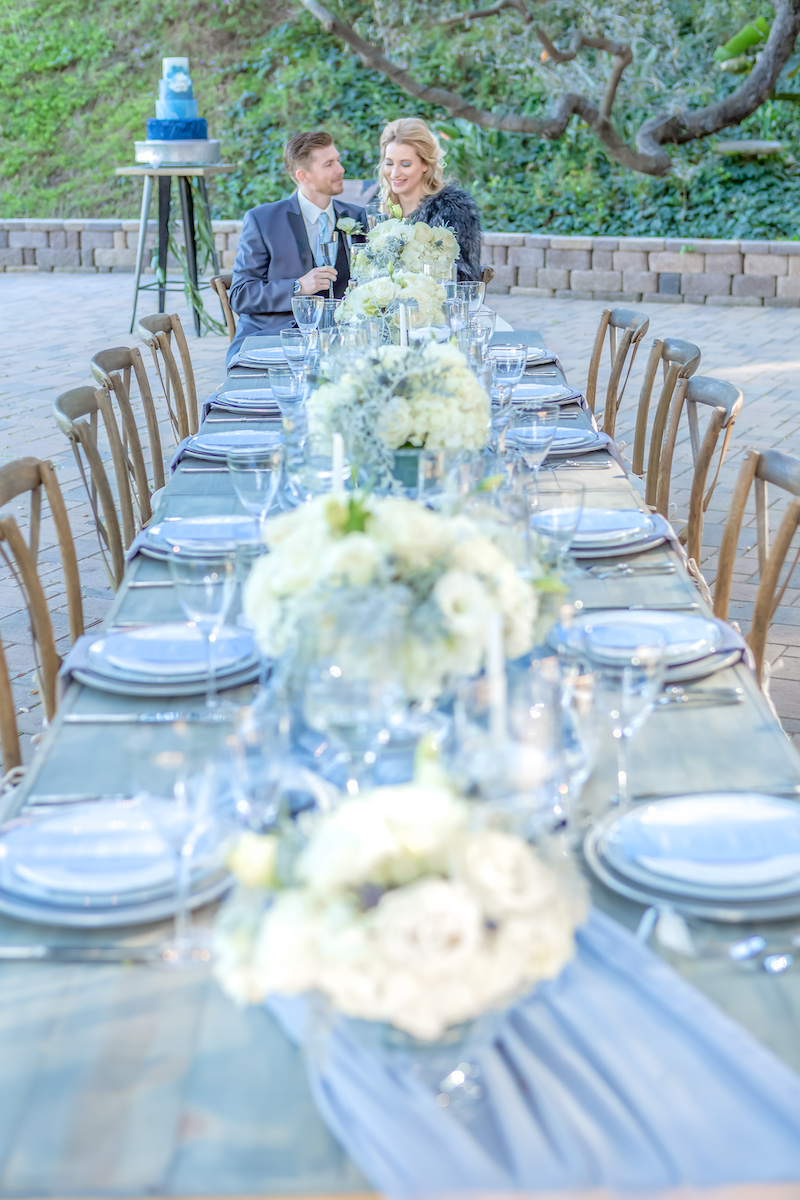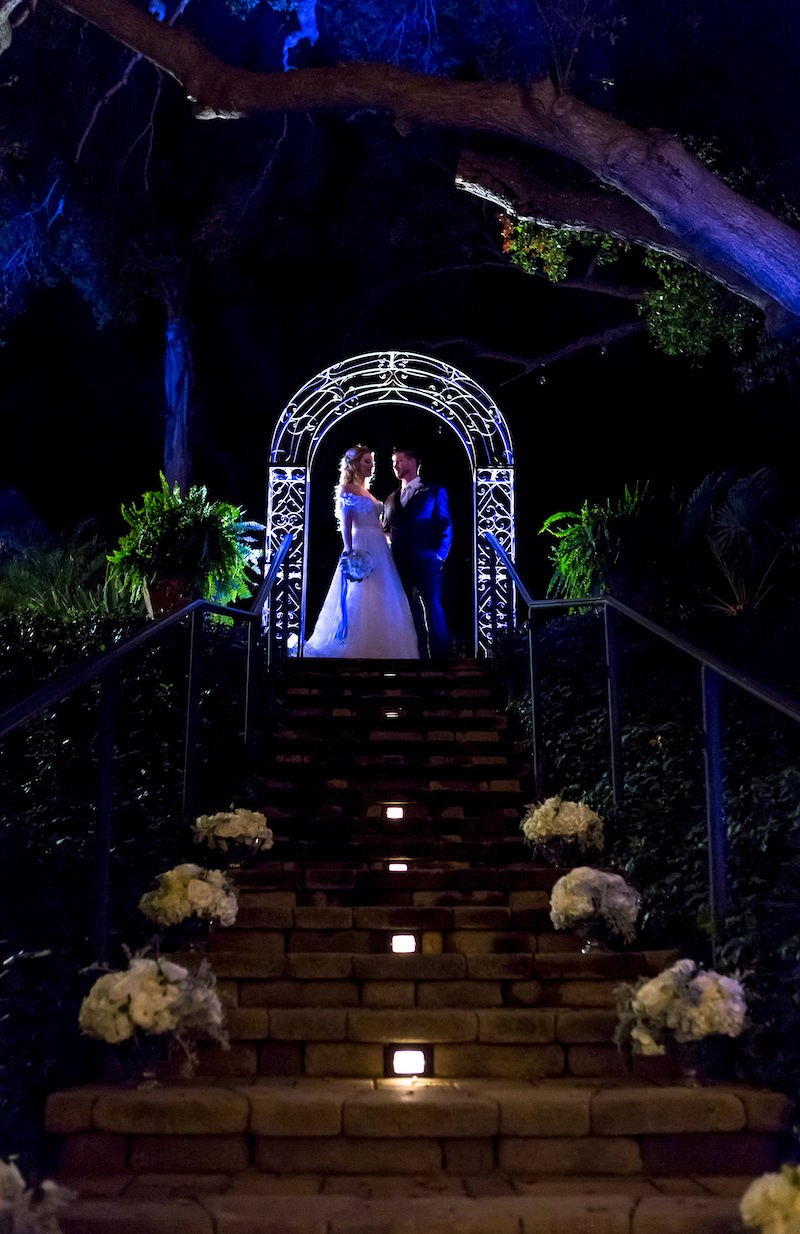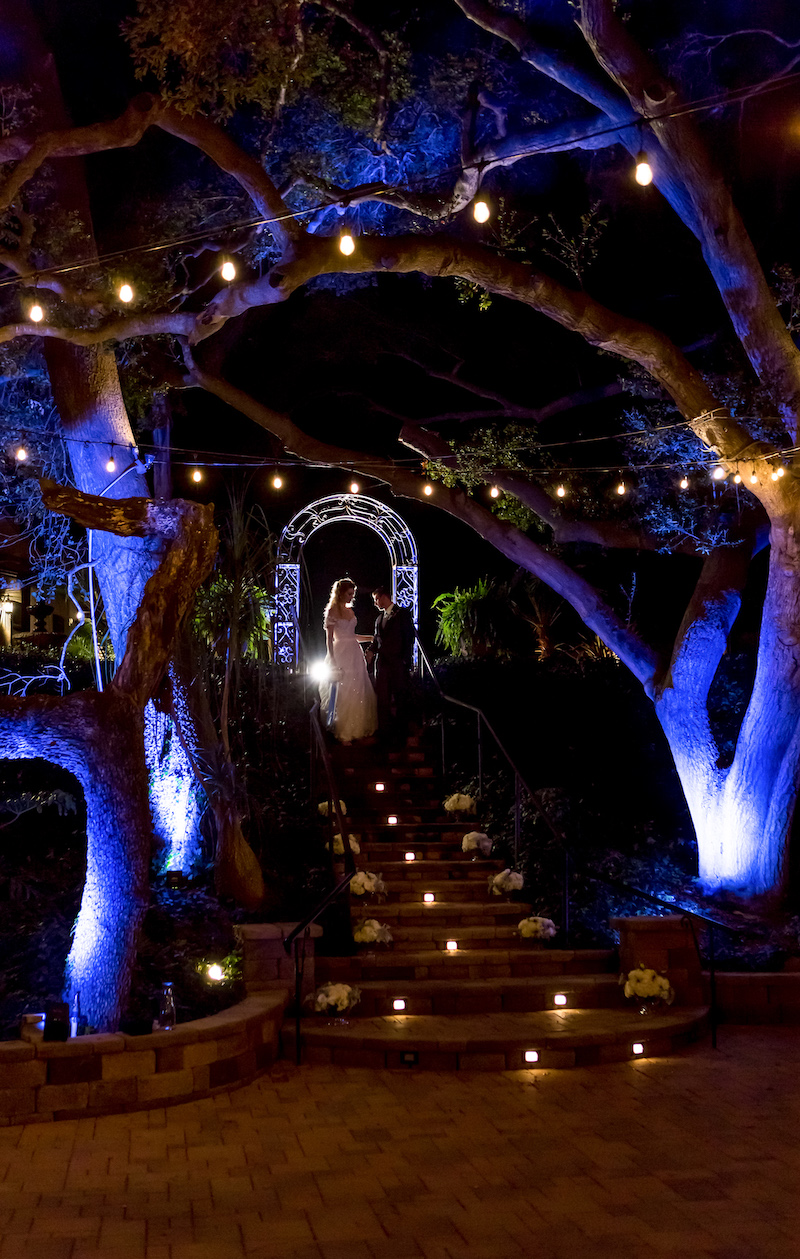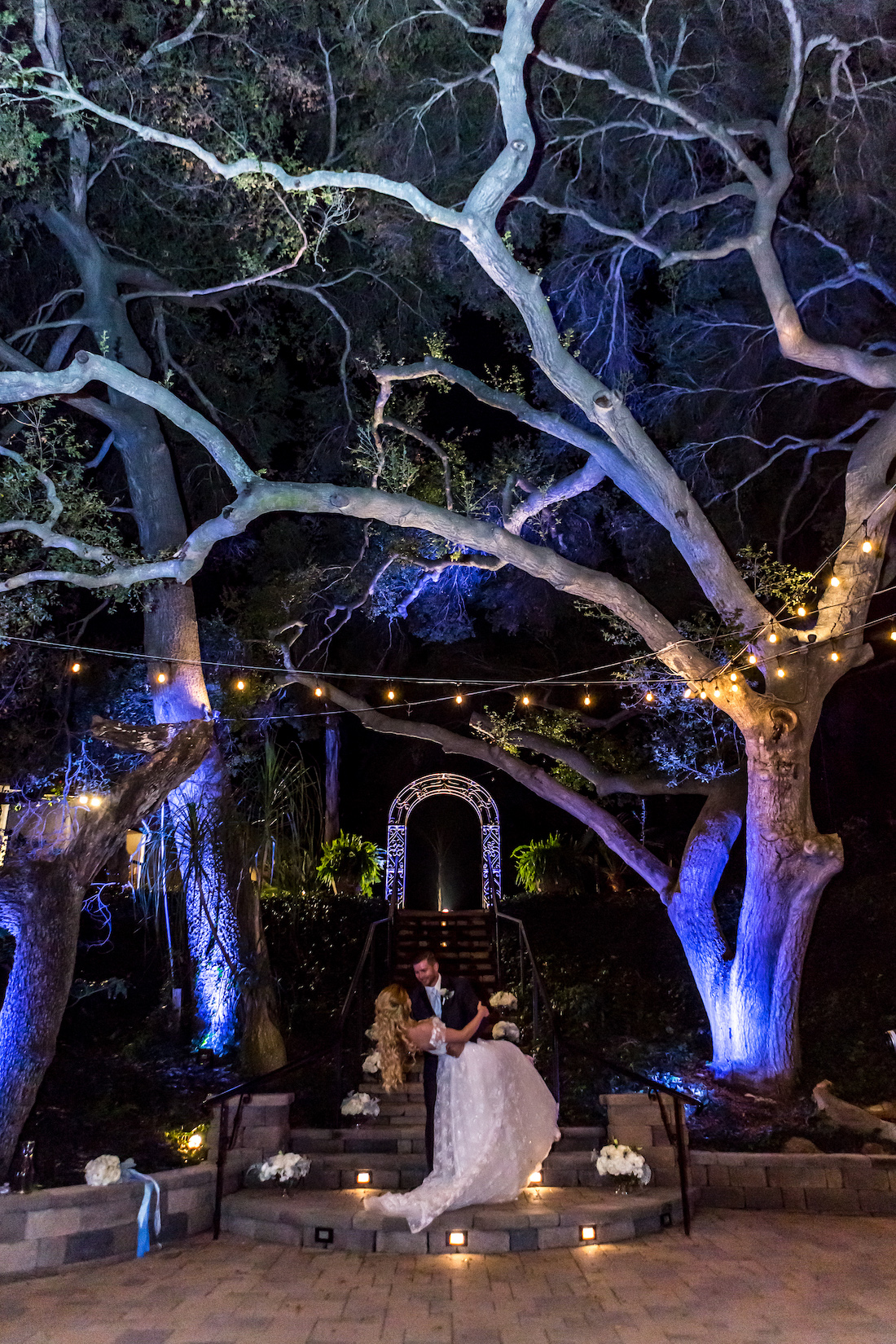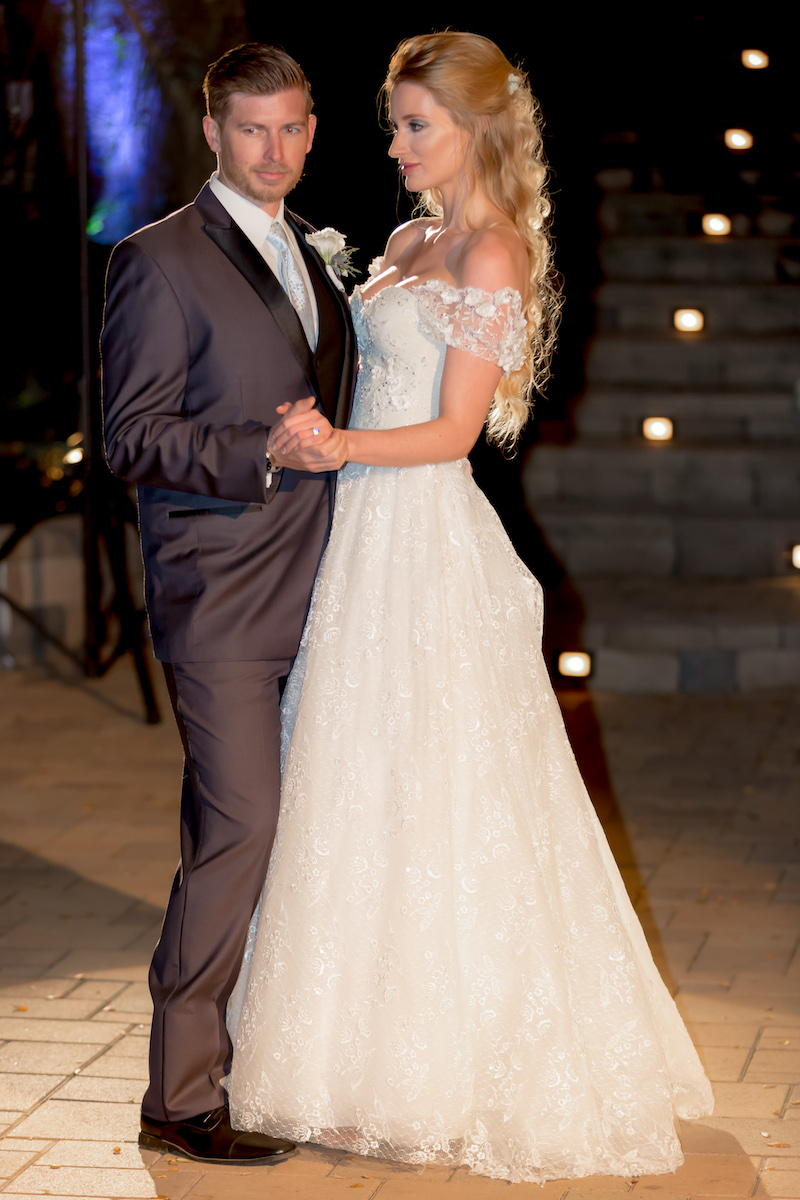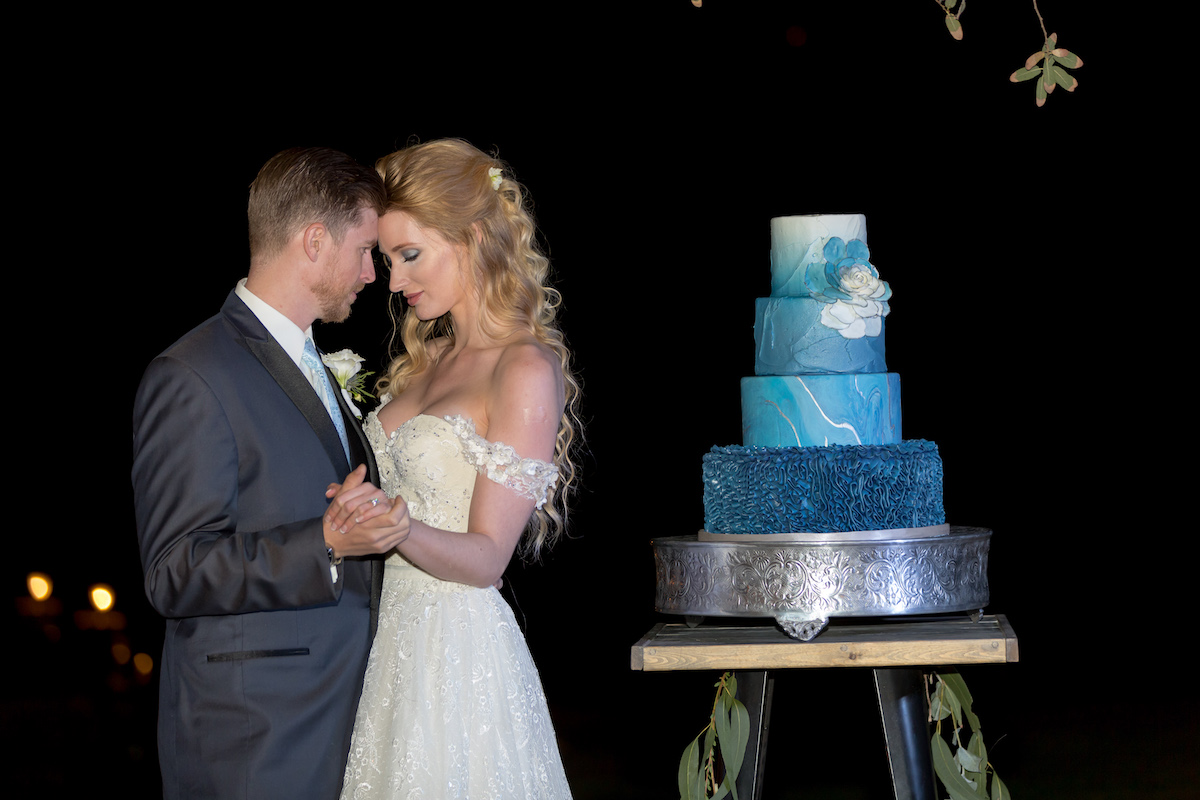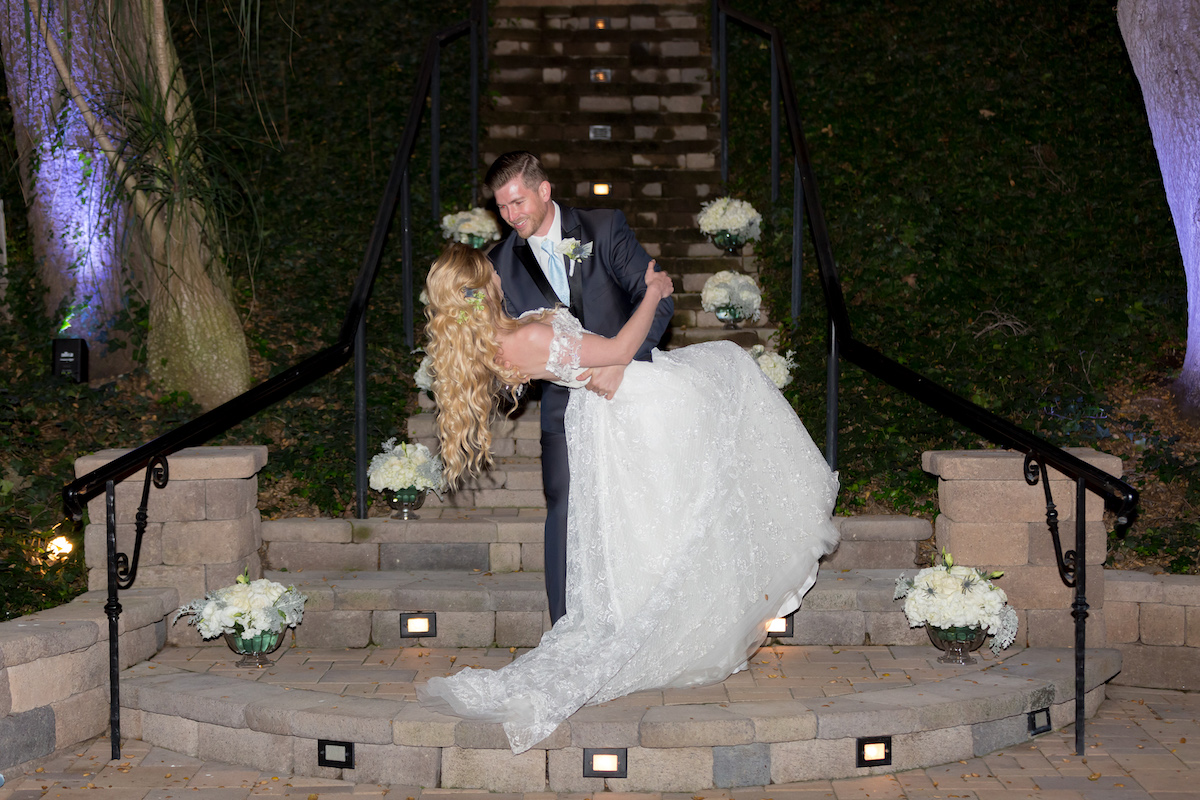 Sean and Shannon of Memories and Promises Photography are located in Temecula, CA, and their imagery can be seen all over Southern California. To receive updates on future content, please subscribe at www.mnpphotos.com